Chris Pine Might Wear The Green Ring - UPDATED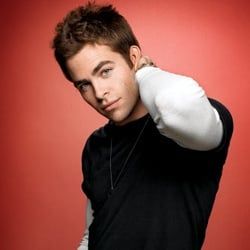 First off, you should know that the Green Lantern film is still aiming for a December 17, 2010 release date, even though they still haven't announced their star. There is a short list of candidates who might play Hal Jordan, and according to iesb.net and LatinoReview it seems that Chris Pine (Star Trek) is rising to the top of the heap. Word on the streets is that Warner Bros. is looking for a manly guy who is under 30. Pine is pretty, and looks a bit like the Lantern, but physical appearance won't help him achieve looking like a badass while wearing skin tight head-to-toe green. One has to exude sheer Sylvester Stallone-level masculinity to pull off that outfit.
IESB.net reports that WB has set up production offices and will begin shooting Green Lantern in September. Although they still have the whole summer to cast the man who will wear the ring, it seems there is still some confusion about the vision of what the Lantern should be. Should he be seasoned or youthful? Although the age cap is said to be 30, names like Nathan Fillion (Firefly) and Jon Hamm(Mad Men) have cropped up along with Pine. Both seem like much more distinguished choices than young Mr. Pine. Plus, how can you deny Hamm's hair? It is so Green Lantern. Another name getting some air time is Sam Worthington (Terminator Salvation). But, he isn't really famous enough to carry a franchise like Green Lantern. Not that Pine is… yet.
The movie will follow the story of Hal Jordan, a pilot who encounters the lantern-like green ring after he discovers a spaceship that has crashed on earth. Jordan takes over the role of the Green Lantern, protector of the galaxy. Stay tuned for more concrete casting news.
UPDATE! The latest on the Chris Pine for Green Lantern rumor comes from Collider where their sources tell them IESB and LR have it wrong. Click over there for more.
Your Daily Blend of Entertainment News