Christoph Waltz Talks Quentin Tarantino's Django Unchained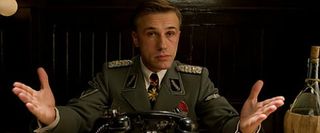 Rarely do we get to see breakouts like Christoph Waltz' supporting role in Quentin Tarantino's Inglourious Basterds. One of the most memorable performances of the last several years, the actor deservedly won an Academy Award and then followed it up by doing villainous turns in The Green Hornet, Water For Elephants and The Three Musketeers - or what you might call the foreign actor turned Hollywood villain cliche, spoofed so well by Jean Dujardin for Funny or Die. After some Carnage with Roman Polanski, Waltz is back with Tarantino and shares a few Django details.
The Geek Files discuss the Austrian actor's reunion with Tarantino for the highly anticipated Django Unchained and an interview he had with The Sunday Times. The film, written and directed by the American auteur, tells the tale of an escaped slave (Jamie Foxx) - aided by Waltz' mystery bounty hunter named Dr. King Shultz - who goes up against a cruel plantation owner (Leonardo DiCaprio) in order to free his wife, Broomhilda (Kerry Washington). And if QT or the cast of Waltz, Foxx, DiCaprio and Washington weren't enough to get you in the theater come Christmas, the film also features Samuel L. Jackson, Kurt Russell, Joseph Gordon-Levitt, Don Johnson and Sacha Baron Cohen.
Discussing his part in the upcoming film, Waltz talks about how he's tackled his new Tarantino penned character - only Tarantino could get away with naming a white character in his slavery movie Dr. King - stating that,
I don't think he has to worry about coming across as too restrained in what is sure to be a very wild west in Tarantino's first full foray in the genre he so famously adores. In fact, the article shares an anecdote about how the Austrian, theater trained thespian was injured during Django Unchained because he fell off a horse during a rodeo-like sequence. I wonder if they give you rodeo training in acting school? However, the Inglourious Basterd toughed it out, saw a great surgeon and was back to work before filming wrapped in Wyoming this week before heading out for the home stretch in Louisiana later this spring.
He and the filmmaker have become fast friends since their work together on the incredible Inglourious Basterds but that hasn't changed the utter admiration Waltz feels towards the writer/director, "I revel in his writing, I really do... He's a genius. I am completely, unconditionally devoted." As are a lot of us and for good reason.
Django Unchained is released on December 25, 2012.
Your Daily Blend of Entertainment News
Thank you for signing up to CinemaBlend. You will receive a verification email shortly.
There was a problem. Please refresh the page and try again.