Cinderella Teaser Focuses On Fairy Tale Iconography, Misses Its Stars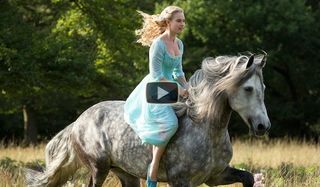 Disney is revamping Cinderella. With nearly a year to go before it's set to hit theaters, the studio that has made an entire industry out of princess worship has unveiled the above official teaser trailer. And it is officially boring.
That was about the longest 1:16 seconds of my life, and for what? To reveal the exact same uninspiring image that's gracing Cinderella's first poster:
Part of me feels vaguely insulted by this. Yes, I totally understand that Cinderella's glass slipper is the most identifiable aspect of her iconography. So playing on that image makes sense. But to spend so much time and effort only to reveal a glass slipper is frustrating on several fronts. One, it's underwhelming. Two, it feels lame and a bit sexist with its hint of "women love shoes, right?" Lastly, there are actually lots of reasons to look forward to Cinderella 2015, and this teaser doesn't tease any of them!
First and foremost, this Cinderella will be a live-action adaptation of the classic fairy tale. But the glass slipper and its butterfly buddy/flourish reads as CGI, a poor hint to this more human take on the tale. The fact that the shoe itself is a gawdy affront to fashion is another matter all together. I mean, Disney had Vivienne Westwood design Miss Piggy's wedding dress for Muppets Most Wanted. If the studio wants to awe us with a slipper, they got to up their game.
But this teaser also fails to present the film's considerable star power. Cinderella has an incredible cast, and why not show it off?
Cate Blanchett signed on to dig into her dark side as the evil stepmother, Lady Tremaine. Helena Bonham Carter will go gonzo as the Fairy Godmother. Downtown Abbey's Sophie McShera and The Borgias' Holliday Grainger are set to play the snotty stepsisters, while Game of Thrones Richard Madden will portray Prince Charming. Then up-and-coming ingénue Lily James will portray the titular heroine, while Marvel stars Hayley Atwell and Stellan Skarsgård add some additional excitement as Cinderella's mother and the Grand Duke. The film has been shot, so why not give us a glimpse of any of the above in action for this teaser?
For now we'll have to satisfy ourselves on this first look that has Lily James riding a horse without a saddle.
Further stoking our anticipation of this live-action Cinderella is a script by The Devil Wears Prada scribe Aline Brosh McKenna and About A Boy adapter Chris Weitz. Both writers who have shown a skill for combining comedy with truly touching dramatic moments. And pulling the whole promising project together is five-time Academy Award nominee Kenneth Branagh, writer/actor/director. He, the man behind such thrilling films as Much Ado About Nothing, Frankenstein and Thor brings his considerable talents to helming a version of Cinderella that aims to appeal to audiences blown away by Frozen.
In short, there is so much to be excited about over the new Cinderella that this shoe-centric teaser campaign that lacks all of them is a major misstep.
Cinderella will open on March 13th, 2015.
Your Daily Blend of Entertainment News
Staff writer at CinemaBlend.