Clint Eastwood Is Making A Miracle On The Hudson Movie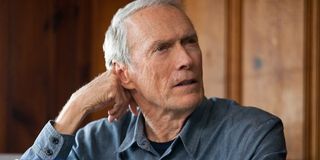 It appears that Clint Eastwood will take the topical approach again for his feature follow-up to American Sniper. This time, the focus will reportedly be on the hero of the 2009 incident dubbed "Miracle on the Hudson," in which commercial pilot Captain Chesley Sullenberger famously saved the lives of 155 people when blown engines forced him to skillfully land U.S. Airways Flight 1549 safely into New York's Hudson River.
According to The Hollywood Reporter, Eastwood, coming off the monumental directorial success of American Sniper, whose $543 million global take made it the highest-grossing war-focused film of all time, will be tackling a drama centered on Sullenberger's story. Flattered, Sullenberger expressed gratitude for this upcoming biopic treatment, stating:
The untitled "Miracle on the Hudson" project would prospectively be the fourth Eastwood directorial effort in a row to take a biographical form, following: American Sniper, the story of late celebrated military hero, Chris Kyle; Frankie Valli and The Four Seasons' story, Jersey Boys; and Leonardo DiCaprio's role as first F.B.I. director J. Edgar Hoover, J. Edgar. Eastwood was previously looking to adapt the story of the falsely accused 1996 Olympic Park Bomber, Richard Jewell. However, that deal would ultimately fall through.
This latest prospective headline-ripped Eastwood project will feature a script by Todd Komarnicki, adapting Sullenberger's 2010 memoir, Highest Duty: My Search for What Really Matters, co-written by Sullenberger and Jeffrey Zaslow. However, it is unclear how the film will reflect that book. The Highest Duty memoir serves as not only an account of the incident that made Captain Sullenberger a household name, but also documents his long and esteemed career as an aviator in both the military and commercial sectors. Consequently, the focus could be aimed at Sullenberger's exceptional life that culminates in those fateful 7 minutes on January 15, 2009 in which Canadian geese took out the engines of US Airways Flight 1549 at 700 feet, forcing what would become the most famously successful crash landing in history.
There is also a focus on attitudes towards duty and disaster prevention that could become a recurring theme in the film. Sullenberger began his career in the United States Air Force throughout the 1970's, in which he served on an investigation board focusing on aircraft incidents. This continued in his subsequent 30 year career as a commercial pilot, heading a consulting firm providing strategic guidance for safety and participated in accident investigations for the NTSB (National Transportation Safety Board.) Thus, as Sullenberger, himself has often commented, his real life experiences clearly prepared him for the pivotal moment over the Hudson.
Sure, the described story attributes sound like a film that would be shown to students in some elective class called "Captain Safety." However, much like Eastwood successfully did with American Sniper, this film could showcase itself as a pathos-heavy character study carrying inspirational themes that could render the film more (politically) accessible to broader audiences than Sniper, but equally as heartwarming. At the moment, no title or release date has been revealed.
Your Daily Blend of Entertainment News