Cloverfield Sequel Is Still A Top Priority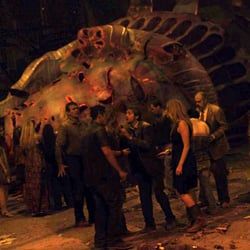 Nowadays most sequels just seem to be plays for more money, but there's something about Cloverfield that warrants one, and the film's fans aren't the only ones who think so. Sequel talk has been abuzz for quite a while now, but the only solid information we've really got is that J.J. Abrams' Super 8 has nothing to do with Cloverfield. That's great, but it still doesn't tell us whether or not Cloverfield 2 is going to happen.
MTV recently spoke to Cloverfield director Matt Reeves about his upcoming film, Let Me In, and spared some time for sequel questions. Unfortunately Reeves couldn't provide an ETA, but he did have some positive things to say about the prospects. Reeves said, "It really isn't the moment for [the sequel] to go any further than it has, but it continues to be a priority for both of us." He added, "J.J. is very immersed in putting together Super 8. He's ... in pre-production and really, really passionately getting that together. And I'm passionately finishing Let Me In."
Okay, so Cloverfield 2 isn't coming anytime soon, but it certainly could be coming. I'd love to say that maybe it could be next after Abrams finishes up Super 8, but the guy's got such a massive list of upcoming projects, I can't imagine where he'd fit it in. Reeves' schedule is a different story. After Let Me In, he seems to be wide open – assuming The Invisible Woman is nowhere closer to actually happening. My fingers are crossed that Abrams makes some time and lets Reeves tackle this one right after Let Me In. We wouldn't want the original film to be so long gone by the time the sequel comes out.
Your Daily Blend of Entertainment News
Staff Writer for CinemaBlend.
Your Daily Blend of Entertainment News
Thank you for signing up to CinemaBlend. You will receive a verification email shortly.
There was a problem. Please refresh the page and try again.