The Coen Brothers Share Their Favorite Westerns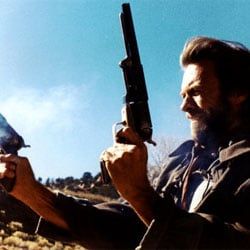 The Coen Brothers have been knee-deep in the Western genre for a couple of years now. Ok technically No Country For Old Men isn't a Western, they'd be the first to say so, but it really feels like one. True Grit is their response to everyone who thought No Country was a Western, their way of saying "hey this is what a Western actually looks like". Bottom line is that it's clear the Coens have a lot of affection for the once dominant film genre and now we know which Westerns they like best.
You might think they'd be big John Wayne fans, since they just remade one of his most well-known movies, but as it happens his work doesn't rank in among their favorites at all. EW got Joel and Ethan Coen to list their top five Westerns and here's what they came up with:
There's actually not much variety in there. It would seem they're not so much in love with Westerns as they are Westerns of the 70s. The first two in particular are sort of the defaults of hardcore cinephiles who aren't actually so much into westerns as they are into 70s filmmaking. Here's their explanation of 70s dominance on their list: "Interestingly, it turns out that most of the best Westerns were made in the '70s, hardly our expectation when we started the list."
I've seen three of the five, and they're good. Still, I'd have worked in at least one John Wayne movie. Where's Howard Hawks and John Ford? This list needs more Rio Bravo. There's reason to think they may not have taken this task of listing Westerns entirely seriously. Here's their explanation for including Doc at #4: "We haven't actually seen this one but saw a clip of the first scene, and the opening gag makes us suspect the movie belongs on the list."
Your Daily Blend of Entertainment News
Thank you for signing up to CinemaBlend. You will receive a verification email shortly.
There was a problem. Please refresh the page and try again.