Colin Firth And Helen Mirren Could Join Best Exotic Marigold Hotel Sequel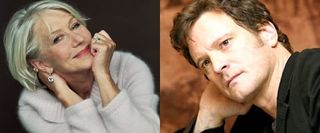 The Best Exotic Marigold Hotel is secretly one of the year's biggest hits, a tiny British indie movie that grossed $46 million in the United States and an amazing $134 million worldwide. It's holding out some hope for Oscar attention, including a Best Supporting Actress nomination for Maggie Smith, but the real prize seems to be proving that a movie about a bunch of retirees can be a big global hit-- great news for older audiences who think, rightly, that most movies are aimed at audiences much younger.
And it turns out that Marigold Hotel is such a big hit it could get the treatment that your average superhero movie always does: a sequel. News about the sequel broke late in October, along with word that the entire original cast was down to return and that screenwriter Ol Parker was working on a treatment. Now Showbiz 411 reports that Helen Mirren and Colin Firth could both be brought in as new characters, with a potential role for an American actress to round out the cast. The story will have all the original characters sticking around the hotel in India, which I'm guessing leaves room for the return of Dev Patel as well.
There's no word on exactly how close Mirren and Firth are to actually signing on, or how Firth would fit in, since he's a good 15-20 years younger than the other retiree-age cast members. But hey, that's a small quibble to get over for the promise of such a strong cast getting together for the sequel to a movie that turned out surprisingly strong. If they can get director John Madden back as well, this could easily be the Avengers 2 for people who prefer real people to superheroes.
Staff Writer at CinemaBlend
Your Daily Blend of Entertainment News
Thank you for signing up to CinemaBlend. You will receive a verification email shortly.
There was a problem. Please refresh the page and try again.