Comic Con: Five Images Of Rose McGowan As Red Sonja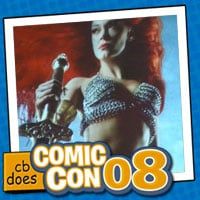 Robert Rodriguez's Red Sonja panel was definitely one of the big highlights of Thursday's Comic Con nerditivies. We've already told you about some of the big news that came out of it, namely that Rodriguez is co-directing the film, now we've got a few sweet images for you from the panel.
First, apologies, the image quality sucks. I'm a lousy photographer at the best of times, and the conditions for photographing anything at Comic Con are almost never the best of times. But here's our first look at Rose McGowan as Red Sonja:
For all of our criminally complete 2008 San Diego Comic Con coverage go here.
Image 1 of 5
Your Daily Blend of Entertainment News