Comic Con: John Lasseter And Hayao Miyazaki, Together At Last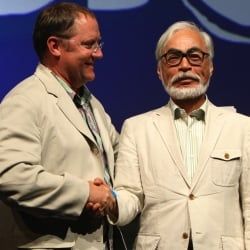 Just by himself, John Lasseter is enough animation genius for one room. Moderating the Disney/Pixar animation panel this morning, Lasseter knew he was in complete control of the crowd-- "Time for a sound check. Is this shirt loud enough?" And while the crowd ate it up when he presented footage from Beauty and the Beast 3D, The Princess and the Frog and a teaser for Toy Story 3, the real gushing started when Hayao Miyazaki joined him on the stage.
Miyazaki, the Japanese animation master behind My Neighbor Totoro, Princess Mononoke, Howl's Moving Castle and his newest film Ponyo, is making his first trip to Comic Con, and the crowd reception may guarantee that it won't be his last. He received the biggest standing ovation I've seen yet, as thousands of American fans finally got to express, in person, how much his work has meant to them. Lasseter, who called him Miyazaki-San throughout the interview, treated him with as much admiration as any member of the audience would. Through a translator Miyazaki discussed many specifics of his process, from storyboards to working with his composer.
They also presented a short clip from Ponyo, the dubbed English version boasting voices like Tina Fey and Matt Damon. Lasseter pointed out that the scene featured water animation like we've never seen before, and boy was he right-- the scene depicts the waves of water like fish, on which Ponyo, a goldfish turned into a little girl, runs toward the boy in the car who sees the waves for what they are. No, this description makes no sense-- but trust me, it's really special to see. Ponyo comes out in American theaters August 14, which means, unlike much of what we've seen at Comic Con, we won't have to wait forever to see it.
As for that meeting of the minds between the two masters, I've got video of the full 10-minute conversation below. Trust me, you do not want to miss this. That's the quietest I've heard Hall H this whole time, as everyone sat in rapt attention, ready to learn from one of the two masters. I'll have more from the Disney panel in a bit, but in the meantime, check out the video below.
Want more from Comic Con? This is just the tip of the lightsaber. Get it all right here.
Staff Writer at CinemaBlend
Your Daily Blend of Entertainment News
Thank you for signing up to CinemaBlend. You will receive a verification email shortly.
There was a problem. Please refresh the page and try again.