Comic Con: Snyder Talks Watchmen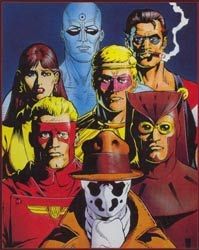 Zach Snyder talked Watchmen at San Diego Comic Con today, although most of the good news has already been delivered. He announced the cast, as confirmed by just about everyone the other day, and added one more name to the list we hadn't heard: Stephen McHattie as Hollis J. Mason, the original Nite Owl (not to be confused with his successor, who will be played by Patrick Wilson). McHattie appeared in Snyder's 300.
Along with the casting news Snyder attempted to appease concerns about the film itself, stating that he hoped one day (Watchmen creator) Alan Moore would see it and not think that "they fucked it up too bad" (quote via Rope of Silicon). They are shooting for an R rating for the movie (most likely a pretty hard R if they stay true to the story) and would include just about everyone's story.
A Watchmen comic cover mini-poster was shared, featuring the logo and smiley face fans of the graphic novel will be more than familiar with, along with a fist punching what has been reported to be Richard Nixon (hard to tell from the poster image itself, also available over at Rope of Silicon, but it looks more like the Comedian getting decked to me). The poster announces the film's official release date: 03/06/09.
Along with the Comic Con information, an official Watchmen website has gone live at watchmenmovie.warnerbros.com/. It pretty much includes what we've told you: a release date and casting news, along with a synopsis for the film. It looks like they'll put the comic-con poster there eventually, along with a production blog. Since production doesn't start until later this year, I wouldn't expect to see updates forthcoming too quickly.
Your Daily Blend of Entertainment News
Thank you for signing up to CinemaBlend. You will receive a verification email shortly.
There was a problem. Please refresh the page and try again.