Composer Carter Burwell Leaves Thor's Dark World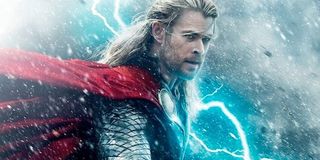 "Creative differences." This is a great go-to explanation when diplomatically describing why collaborators break ties. As ambiguous as it is, this phrase can cover any number of grievances and sins. It was creative differences that delayed the Vacation reboot, and creative differences that was blamed for Al Pacino walking away from Despicable Me 2. Hell, "creative differences" could likewise be employed in any number of the cast and crew shakeups that have hit Jane Got a Gun. And today creative differences has claimed another split, this one on Thor: The Dark World.
Deadline reports award-winning composer Carter Burtwell, whose name was recently featured on the film's first poster, has dropped out of the production. One studio insider explains, "They like him but it wasn't the right project," leaving the possibility that Burwell could return to Marvel for a different adventure.
Thor: The Dark World would have marked the first superhero movie in Burwell's already illustrious career. Along with crafting scores for all of the Coen Bros movies as well as every Spike Jonze film, the celebrated composer has also created music for Twilight, A Knight's Tale and Seven Psychopaths. Looking over her filmography, it seems a true shame he won't be contributing a score to Thor, as it certainly would have been something unlike we've ever heard in a superhero movie before.
Reportedly, the Marvel studios are close to finding Curwell's replacement. In the meantime, you can listen for Curwell's work in the upcoming drama The Fifth Estate, which stars Benedict Cumberbatch as WikiLeaks founder Julian Assange. It will open October 11th, 2013. Thor: The Dark of the World will follow November 8th.
Staff writer at CinemaBlend.
Your Daily Blend of Entertainment News
Thank you for signing up to CinemaBlend. You will receive a verification email shortly.
There was a problem. Please refresh the page and try again.