Corpse Bride Official Site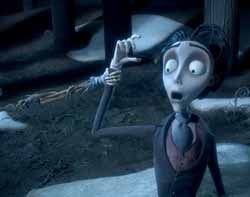 I'm an unabashed fan of The Nightmare Before Christmas, and still like to roll around in my head every now and then my memory of watching it at the Alamo Drafthouse back when I still lived in Austin. There's probably enough publicity for the Drafthouse being spewed out on the internet, but there's no denying it… that really is the best place on the planet to see movies. It's a dump, but I love it.
Well, Tim Burton is returning to the claymation style of Nightmare this summer with his new movie The Corpse Bride. It's one of the movies I'm most looking forward to this year, and if it even comes close to touching the magic of Nightmare when it hits theaters this September, my anticipation will be richly rewarded.
The good news today is that the official site for The Corpse Bride has at last gone live, sporting the usual trailers, downloads, posters, and other info. This is actually the first I've seen of The Corpse Bride poster, so I've dropped it below along with a link to the official site. Check out the wallpapers under downloads, one of them is already on my desktop.
Swipe to scroll horizontally
Your Daily Blend of Entertainment News