Could Mark Ruffalo Be A Big Screen Columbo?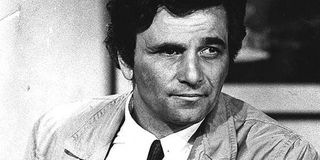 As it turns out, screenwriter Gary Whitta (The Book Of Eli) is not only a fan of the old TV series Columbo, he's also possibly developing the property for the big screen. And all it took was one little tweet to reveal to him that (Nick Fury voice) he's part of a bigger universe. Is it possible that Columbo could come to the big screen in the guise of Mark Ruffalo?
The Twitter-happy Whitta first found inspiration in a followers' Tweet as to who would be his ideal Columbo.
So far, so harmless. But the Twitter gods were listening. And so was Mark Ruffalo.
THE GAME HAS CHANGED.
Ruffalo is referring to Ed Solomon, the veteran screenwriter behind movies like Bill and Ted's Excellent Adventure, Charlie's Angels, Imagine That and Men In Black.
Naturally, Whitta responded with a series of joyous tweets, so inspired by the revelation that Ruffalo-as-Columbo was a semi-real thing, fully expecting sites like us to pick up the story.
For those of you of a younger generation, Columbo was a popular TV show that ran from 1971, on-and-off through the years, all the way to 2003. The late great Peter Falk essayed the role of a scatterbrained genius detective who would always nail his perp through shrewd and unconventional investigative manners. His trademark was always leaving a scene, only to double-back with, "Oh, just one more thing..." The key to the series was that the audience knew the perpetrator at the beginning of each episode, usually a big guest star. The pleasure was in watching Columbo put the clues together.
Ruffalo, currently seen in Begin Again, would be a natural Columbo - constantly distracted, and prone to meandering monologues. And since it seems Marvel is a bit too busy to give him his own Hulk movie (despite rumors), maybe its time he become the contemporary world's favorite old-new detective?
Oh, and just one more thing... Whitta thinks Duncan Jones would be a nice choice to direct.
Mark Ruffalo is Columbo. Now. Or else, internet.
Your Daily Blend of Entertainment News
Thank you for signing up to CinemaBlend. You will receive a verification email shortly.
There was a problem. Please refresh the page and try again.