Cynthia Nixon Teams Up With Diane Keaton and Morgan Freeman For Life Itself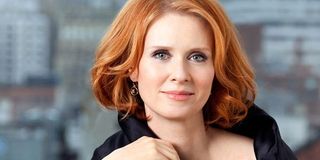 Turns out Life Itself is all about real estate, which I'm told is all about location, location, location. The soon-to-shoot dramedy from Wimbledon director Richard Loncraine stars Morgan Freeman and Diane Keaton as long-time married couple Alex and Ruth who get caught up in a bidding war when they put their Manhattan apartment of 40 years on the market. As production prepares to kick off, The Wrap reports Cynthia Nixon, who became a New York City icon as a cast member on the groundbreaking comedy series Sex and the City, has signed on to play Ruth's niece and real estate broker.
Early reports on the film revealed it will take place in the course of a whirlwind weekend where the couple at its center is forced to face their past in the apartment and what the future without it could hold. Remarkably, Life Itself will mark the first time the storied stars (Keaton and Freeman) have appeared in a film together. However, it won't be the first time Keaton and Nixon have collaborated. The pair both appeared in the 1996 drama Marvin's Room. Keaton fronted the film opposite Meryl Streep and a young Leonardo DiCaprio, while Nixon had a small role as a retirement home director. This will be Nixon's first time working with Freeman though.
Since Sex and the City wrapped in 2004, Nixon has returned to reprise her role of stern lawyer Miranda Hobbes in two spin-off movies. Aside from that, she fronted the short-lived comedy series Tanner on Tanner, snagged a recurring role on the Showtime dramedy series The Big C and in the fantasy mini-series World Without End. She has also popped up in a handful of smaller films, including Derick Martini 's 1970s-set family drama Lymelife, the Quentin Crisp biopic An Englishman in New York, and the critically cheered Woody Harrelson vehicle Rampart. And of course, the two-time Tony Award-winner returned to the stage in the 2006 production of Rabbit Hole--in the role Nicole Kidman played in the movie version—and in the 2012 production of Wit.
Basically, while it seems likely that Nixon is grateful for the opportunity to work once more with Keaton, who has proven an inspiration to countless actresses over the years, it's unlikely Life Itself marks a major shift in Nixon's career. She's established and renowned in film, television, and theater, and has been making a career in each of these arenas for years. Still, it's always good to hear that she's joined a cast, as she brings an incredible sharp sense of comedy with her. Lest we forget:
Production on Life Itself will begin next week in New York City. No release date has yet been announced, but it's expected to open sometime next year.
Your Daily Blend of Entertainment News
Staff writer at CinemaBlend.