Danny Trejo Not In The Expendables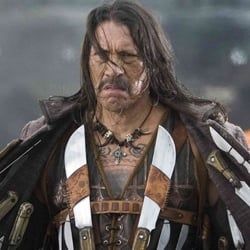 Get ready to feel sorry for Danny Trejo, but only for a minute. It's been widely assumed for a while that the Planet Terror star would be joining the testosterone-fueled cast of The Expendables, the Sylvester Stallone movie currently filming in South America. But when our friends at Gordon and the Whale caught up with him at CineVegas, he told them that he's not only not in the film, he was never even cast.
He was never contacted by Sylvester Stallone or anyone involved! How did we all get the idea he was in it? Latino Review broke the story as an exclusive back in February, so presumably this was the story that wound its way through the internet for the last four months.
But don't cry for Trejo just yet-- he also told GATW that Robert Rodriguez is planning to start filming Machete, the feature adaptation of his trailer before Grindhouse, in just five weeks! Rodriguez has about a dozen projects in active development, and it was safe to assume for a while that Machete would happen a long time from now, if ever. But maybe after abandoning his Barbarella remake, Rodriguez is ready to revive another character from his past. I won't believe the film is actually happening until we get filming reports, but this is very good news for Grindhouse fans who want to see Rodriguez's pulpy horror sensibility get another workout.
Staff Writer at CinemaBlend
Your Daily Blend of Entertainment News
Thank you for signing up to CinemaBlend. You will receive a verification email shortly.
There was a problem. Please refresh the page and try again.