David Fincher And Scott Z. Burns To Go 20,000 Leagues Under The Sea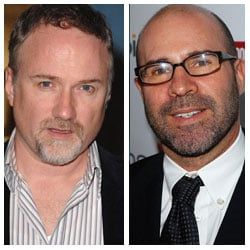 Just because Disney wasn't feeling McG's 20,000 Leagues Under the Sea, doesn't mean the studio has abandoned the film entirely. In fact, according to THR, Disney is currently in negotiations with David Fincher to direct the adaptation of the classic Jules Verne story. Talks are also underway with Scott Z. Burns to pen the script.
Apparently after Disney President Dick Cook was out of the picture, the studio's new production head, Sean Bailey, stepped in and took the reins on 20,000 Leagues. Shortly after being hired, Fincher approached Bailey and expressed his interest in tackling a "four-quadrant tentpole movie," which is quite unusual for the guy responsible for films like Fight Club and Zodiac. They've been collaborating ever since and have only made their efforts public now.
No word on whether or not Burns will go the origin story route as had McG, but, odds are, it will not step into darker territory for that was a major reason Disney President Rich Ross gave McG's version a thumbs down. Burns will put pen to paper immediately and assemble something "in the veins of Star Wars or The Empire Strikes Back." Fincher isn't expected to dive in as quickly. He's still in post-production on the Social Network and is likely to get behind the lens for the US remake of The Girl With the Dragon Tattoo before 20,000 Leagues.
Regardless, I'd like to bet that this is the real deal and 20,000 Leagues Under the Sea is a guarantee at this point. Stepping lightly and keeping the whole revamp effort under wraps must mean the team considers the project of high importance. On top of that, Bailey really nabbed a top-notch filmmaker. Yes, appealing to the masses is something Fincher isn't quite used to, but we're talking about the guy responsible for Panic Room and The Curious Case of Benjamin Button. Even if it doesn't stretch into the four-quadrant region, the guy certainly has range and is a huge step up from the frequently troubled McG.
Staff Writer for CinemaBlend.
Your Daily Blend of Entertainment News
Thank you for signing up to CinemaBlend. You will receive a verification email shortly.
There was a problem. Please refresh the page and try again.