David Lynch Explains His Cow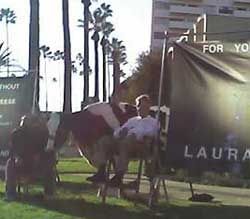 Not long ago a video popped floated out onto the web (watch it here) which showed famed director David Lynch sitting on a street corner next to a cow and a poster showing Laura Dern in his new film Inland Empire. Lynch has always been eccentric, but this seemed a little crazy for even him. Well, now he's explained himself. And it still seems absolutely crazy.
Apparently bovines are his new method of self-distributing his films. The Mullholland Drive director tells The Hollywood Reporter he's stick of studios and will now distribute his movies himself. To do it, he'll embark on a ten city tour to promote the film, using only cattle and a folding chair. "I ate a lot of cheese during the film, and it made me happy," he explains. "I'm hoping the Academy members will be sick of 10 million trade ads and appreciate something a bit different." Cows are certainly different. I'll give him that. Accompanying Lynch and his moo-buddy will be Pianist Mark Zebrowski, who will play "Polish night music" from Inland Empire.
Well wait, maybe cows have something to do with the movie? Besides Lynch enjoying cheese that is. Nope. Inland Empire is a movie with three separate, interconnected plotlines about filmmaking. Unless the movie being made inside it is City Slickers, cows don't fit. Maybe Lynch has been hanging out with Gary Larson. That's the only explanation I can come up with.
Whatever the hell he's doing, Lynch is eager to get started. "I'm looking forward to meeting theater owners and getting out among the people with the cow," he says.
Your Daily Blend of Entertainment News
Thank you for signing up to CinemaBlend. You will receive a verification email shortly.
There was a problem. Please refresh the page and try again.