A David Sedaris Story Finally Gets Adapted For The Screen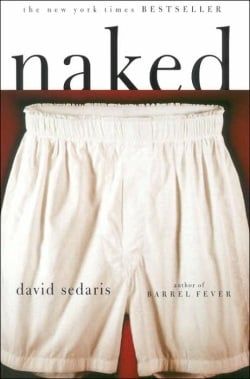 David Sedaris remains a massively popular short story writer and essayist, even if it's been nearly ten years since his most popular book, Me Talk Pretty One Day, launched him into the author stratosphere. There had been talk years back of a movie adaptation of Me Talk Pretty, one that Sedaris and his family eventually halted for fears of how they would be depicted onscreen. But apparently it's not too late for another one of Sedaris's stories, one not focused on his family and from the earlier book Naked, to make it to the screen.
Our adorable pals at Gordon and the Whale have learned that Easier WIth Practice director Kyle Patrick Alvarez has optioned the rights to "C.O.G.", one of the stories from Naked, and is currently working on financing the film based on his script. It's been a while since I read Naked, but I remember "C.O.G." as a longer and less laugh-out-loud funny story from Sedaris, about his time cutting clocks in the shape of Oregon and an unhinged coworker who frequently referred to himself as a "C.O.G." a.k.a. "Child of God."
Though it's one of the lesser-known essays in Naked, "C.O.G." may also be easier to adapt to film because it's not about the Sedaris family or even particularly focused around the author. David Sedaris's work often only succeeds because of his particular writing style, and stories like "Naked" or "Ashes" would be pretty unimaginable in movie form. "C.O.G." is more like a weird slice-of-life that could have happened to anyone; no telling if Alvarez will try to maintain Sedaris's style in his adaptation, but it's an interesting challenge nonetheless. We'll keep you posted as he works on finding financing to see if this film ever becomes a reality.
Your Daily Blend of Entertainment News
Staff Writer at CinemaBlend