Debbie Reynolds Returns To Movies To Play Katherine Heigl's Grandmother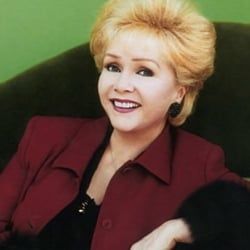 Betty White has been getting all the attention lately as the feisty old lady we all love, but you know who is also old and awesome? Debbie Reynolds. The star of Singin' in the Rain and The Unsinkable Molly Brown hasn't been in a feature film since 1998, but apparently she's still willing to go up on the screen once and a while, and it's Katherine Heigl, of all people, who has convinced her to make a comeback. According to Deadline Reynolds will be playing the role of outspoken Grandma Mazur in One for the Money, an adaptation of one of Janet Evanovich's many books starring the amateur bounty hunter Stephanie Plum.
Heigl is playing Plum, of course, and is executive producing alongside her mom Nancy. Heigl said of Reynolds, "Grandma Mazur is such a great character. She's really feisty and the one who's a real mentor to Stephanie Plum. We needed somebody for the part who would speak her mine and even be a little edgy. We approached Debbie Reynolds because she has that 'Molly Brown' as a contemporary grandmother. She's so perfect for the part. Then she read it, loved it and joined immediately."
Jason O'Mara, Daniel Sunjata, John Leguizamo and Sherri Shepherd are already on board to round out the cast, and Julie Anne Robinson (The Last Song) is directing. Coupled with this fall's dramedy Life As We Know It, the film seems to mark a slight shift for Heigl as she leaves Grey's Anatomy and apparently moves on from the romantic comedies that have made her famous. Her romantic comedy career was seeming pretty short-lived anyway-- she was coming across as more shrill and unlikeable every time-- so maybe an unlikely bounty hunter is exactly the role she needs to get back in our good graces. Bringing Reynolds on board sure can't hurt, though if she only pops up as the grandma who swears and makes inappropriate sexual comments, I'll never forgive Heigl for wasting that kind of talent.
Your Daily Blend of Entertainment News
Staff Writer at CinemaBlend