Decades-Long Game Of Tag Getting Inevitable Movie Adaptation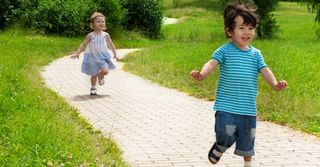 Tag is the game that you play as a kid when you've got open space and nothing to do. The rules are so basic that preschoolers can play it, but it makes for a useful excuse to run around and chase your friends even when you get older. Like, in your 40s older. Well, at least that happened for the Tag Brothers, a group of grown men who have kept a game of tag going for decades-- and who now have a movie in the works about their story.
Yes, seriously. After the publication of This Wall Street Journal article, the group of men called the "Tag Brothers" have been receiving pitches from half a dozen studios and producers itching to make a movie about their story. According to Deadline, the winner is Todd Garner of Broken Road, who has optioned the life rights of the 10 childhood friends. Garner will be shopping the idea to studios, but given that some of them were in the hunt for the rights themselves, he ought to be able to make a sale before too long.
When you read the Wall Street Journal article you can see pretty easily how this could become a movie. The ongoing tag game, which is only live every February, has involved the various players flying across the country to hide out in each others' bushes, breaking into houses in the middle of the night and even accidentally injuring a wife by popping out of a car's trunk. One of the participants has become a priest in Montana, but his fellow players have no trouble pointing out that he's a prime target on Sundays. It's not hard to see this as something that Owen Wilson and Vince Vaughn could lead, a comedy with potential meaningful exchanges about the meaning of friendship. Or it could just be an opportunity for a lot of great physical comedy. I'd be down with that too.
Your Daily Blend of Entertainment News
Staff Writer at CinemaBlend