This Is Definitely My Hat: Danny McBride Is A Bully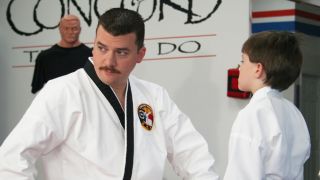 (Image credit: Paramount Vantage)
Whether or not you recognize him by name yet, you should all be familiar with the work of one Danny McBride. He's shown up in just about every comedy of the past five years and stolen the show almost every time. Tropic Thunder, Hot Rod, Pineapple Express, all some of the funniest movies of the past decade and all brought to the next level by McBride's comedic genius.
Deadline is reporting that Mandate Pictures has just picked up a pitch from the Eastbound and Down star called Bullies about two brothers who spend their whole lives picking on the little guy but finally get what's coming to them. Relative noobs Jarrad Paul and Andrew Mogel are taking a stab at the script, hired off the merit of Yes Man, which they also co-wrote.
Without McBride, Bullies could be a potentially run-of-the-mill buddy comedy where two people simply learn their lesson, but putting McBride in the mix along with his usual collaborators Jody Hill, Matt Reilly, and director David Gordon Green, we should be in for something on another level of hilarious. More on this as it comes to us, and check out Eastbound and Down in the mean time. Seriously, you'll laugh your bag off.
Your Daily Blend of Entertainment News