Depp Wants To Do Pirates Movies Forever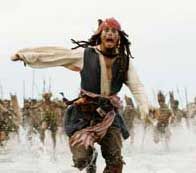 Johnny Depp is ready to spend more time playing Captain Jack Sparrow. That is after he finishes playing him in two more movies. It seems Depp would be perfectly happy collecting Jack Sparrow paychecks for pretty much the rest of his career, probably spaced out with creepy Tim Burton movie paychecks just for spice.
Johnny spoke to Newsweek on the subject, and told them he won't rule out more sequels once the last of the new Pirates of the Caribbean movies debuts in 2007. "I'll be in a deep, dark depression saying goodbye to him," he jokes. "Maybe 'Pirates 4, 5 and 6'," he says. "If they had a good script, why not? I mean, at a certain point, the madness must stop, but for the moment, I can't say that he's done."
The first of the next batch of Pirates movies debuts in just a few weeks, dubbed Dead Man's Chest. It was filmed back to back with a third movie, which Disney will hold on to until summer 2007. If they make as much money as most anticipate, Johnny should have no problem convincing the studio to make Pirates of the Caribbean movies until he ends up in Davy Jones's locker.
Your Daily Blend of Entertainment News