Did DreamWorks Steal Kung Fu Panda?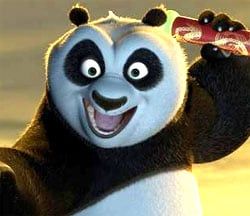 Even with the brilliance of How to Train Your Dragon, Kung Fu Panda remains my favorite DreamWorks Animation film and it's a measuring stick for what the company's capable of when they're not obsessed with horrible, worn out, farting ogres. In fact at the time it was so much better than any of their previous efforts, it almost didn't feel like a DreamWorks film at all. Maybe that's because it wasn't?
The Wrap says a screenwriter named Terence Dunn is suing DreamWorks Animation, claiming they stole his idea and used it for Kung Fu Panda. Dunn is described as an "Ivy League-educated Chinese-American writer-producer-teacher-philosopher," and also occasional Tai Chi instructor for the LA Lakers. If you've seen Panda it's not hard to imagine it being thought up by exactly that kind of dude. He claims he pitched the idea for a movie about a kung-fu loving panda and his tiger, leopard, snake, crane, monkey, and tortoise companions to DreamWorks way back in 2001. All of those characters were indeed present in Kung Fu Panda, with a few additions.
Sounds plausible, right? Particularly since the lead character in his pitch was a panda who wanted to learn Kung Fu. That's pretty specific. But aside from that, most of the idea is pretty general, really. Part of what makes Kung Fu Panda so great is that it takes a fairly universal idea and makes something special out of it. Would this guy's involvement have made the movie any better? Probably not. Maybe it was his pitch, I suppose we'll find out in court, but I'm not sure I care. If he'd written a script and they'd stolen it, then I'd be up in arms about this; but I've never felt all that comfortable with the notion that guys who simply wander around and say "hey what if we made a movie that did this…" get big paychecks to begin with. Give him a sawbuck and send him on his way.
Your Daily Blend of Entertainment News
Thank you for signing up to CinemaBlend. You will receive a verification email shortly.
There was a problem. Please refresh the page and try again.