Die Hard Film Franchise Refuses To Die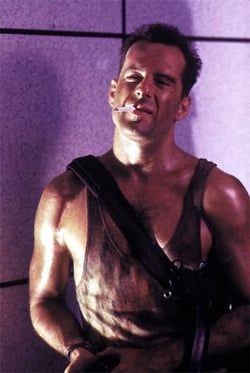 Live Free or Die Hard divided audiences everywhere. Half of the population thought the movie was big fun, while the other half thought it was big crap. But the half that liked it funneled enough money into the box office receipts to warrant the studios taking John McClane out for one more joy ride, according to THR.
The next in the Die Hard universe will be written by X-Men Origins: Wolverine penner Skip Woods, with no director yet confirmed, even though Bruce Willis has openly expressed his interest in getting previous director Len Wiseman back on board. Woods also wrote the upcoming A-Team adaptation which looks to be quite a step up from Wolverine, but don't get your hopes up just yet.
There's one thing they could do to guarantee that this movie will actually be good, and that's have the original film's director John McTiernan come back on board. Everybody knows that Die Hard and With a Vengeance were the best of the series, both of which McTiernan directed. The studio should make an effort to continue the "every other iteration" tradition they set forth with the original trilogy, and get the original helmer back in the saddle.
No information about story or casting has been released, but rest assured, whether you want it or not, you'll be hearing YIPPEE KI-YAY MOTHER FUCKER at least one more time before the series inevitably gets rebooted.
Your Daily Blend of Entertainment News
Thank you for signing up to CinemaBlend. You will receive a verification email shortly.
There was a problem. Please refresh the page and try again.