Director Andrew Stanton Opens Up About John Carter's Failure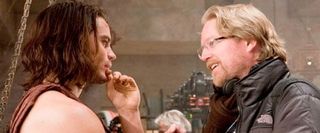 With major successes under his belt like Oscar-winners Finding Nemo and Wall-E, we were eager to see what animation director Andrew Stanton would do with a massive budget of $250 million dollars and his first attempt at helming live-action. But John Carter proved a massive flop, failing to impress critics and resulting in a reported loss of $200 million for Walt Disney Studios after print and advertising costs were factored in.
While his Pixar colleague Brad Bird was celebrated for his dynamic leap into live-action with worldwide hit Mission: Impossible – Ghost Protocol, Stanton kept his head down flying to New York City, riding the subways and trying to make sense of it all. Well, The LA Times caught up with him, and while John Carter begins to find new fans on DVD, he reflects on the flop and his hopes for its future.
First off, where the studio is regularly portrayed as the bad guy in these situations - the one who ruined what could have been a great film - Stanton refuses to point the finger at Disney, saying, "I was left alone from Day One to the last day."
He admits he struggled moving from the Pixar method where the story boards and scripts are massaged and revised throughout a several-year production schedule to the reality of John Carter where a gargantuan crew runs the budget up $500,000 a day, making every delay or second thought costly. Stanton had tried to ease this workflow difference by building reshoots in the script, but reshoots—especially several—earn a live-action picture an often inescapable bad buzz. Shooting a movie with a huge budget that had plenty of eyes on it was very different from the super secret development process of Pixar pictures, making for a cruel learning curve.
Of course, we've recently recounted how it was a bad move on the marketing's part to change the original title John Carter of Mars to the far less evocative John Carter, but Stanton's kind on this point too, allowing:
The failure of John Carter understandably killed any chance for the sequel Stanton had planned, but he still believes in the movie he made and hopes this won't be the last we hear of the ambitious feature. In fact, he has hope the film will find its following eventually, like Blade Runner and The Wizard of Oz did. Both had unimpressive box office totals upon their initial release, but as years passed grew in audience and critical esteem and are now both regarded classics on some level. Could the same become true for John Carter? Only time will tell.
Your Daily Blend of Entertainment News
Staff writer at CinemaBlend.