Director Hired To Wrangle Will Ferrell And Ed Helms In Daddy's Home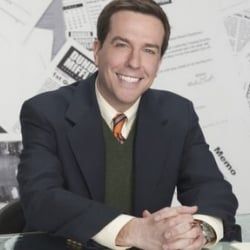 You may have noticed that you're seeing Etan Cohen's name everywhere right now-- we already wrote about him this morning as the writer of the Museum of Supernatural History movie. The prolific screenwriter responsible in part for Idiocracy and Tropic Thunder is moving on to a new phase, though-- in the director's chair. Deadline Hollywood is reporting that Cohen will step behind the camera for Daddy's Home, a comedy starring Will Ferrell and Ed Helms.
In the film Ferrell will play a woman's wild ex-husband who comes back into her life in order to bond with the kids, much to the annoyance of the boring and stable new husband (Helms). I'm sure your jaw just dropped at the very notion of Ferrell playing a wild man and Helms being a sweater-vest-wearing dweeb, but hey, who ever had anything against people playing to their strengths? I like the idea of Ferrell and Helms together pretty much no matter what, and we'll see if Cohen's comedic writing skills translate at all to being the director who has to keep Ferrell and Helms in line. Not an easy job, but if Cohen is so popular right now, maybe he's already proven he's up to it.
Your Daily Blend of Entertainment News
Staff Writer at CinemaBlend