Disney Sets Release Dates For John Carter of Mars And Frankenweenie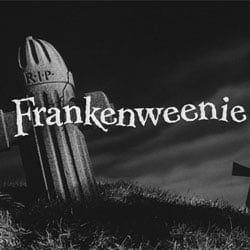 Today Disney announced release dates for two of their upcoming features, John Carter of Mars and Frankenweenie. Mars, headed up by Andrew Stanton, will be the Pixar director's first time doing a live-action feature. Frankenweenie is an expansion of sorts on the Tim Burton short film of the same name. It's not officially been announced, but many expect Burton to take up the reins and direct this one as well.
Stanton's John Carter of Mars will be released on June 8, 2012. It's an adaptation of the pulp-adventure novels by Edgard Rice Burroughs. Specifically, it will center around the first of his stories to feature the John Carter character, A Princess of Mars, which was first published as a novel in 1917. The story finds Carter as a Civil War veteran who goes to sleep in a cave after being chased by Apache, and wakes up on Mars. It's definitely a fantastical take on Sci-Fi, and it'll be very interesting to see how Stanton brings his Pixar sensibilities to a live-action film like this. He's best known for directing Finding Nemo and WALL-E, so there's really no question no questioning his talent, but how will it translate to live action?
Frankenweenie is a different matter. Premiering on March 9, 2012, this stop-motion, black and white, 3D project has Burton written all over it. Currently he's listed as a producer, but according to Don Hahn in March, Burton was interested in directing as well. The original short follows a young boy named Victor Frankenstein who attempts to reanimate his dog Sparky after it is hit by a car. The production on the short is an interesting story in itself. It caused Burton to be fired by Disney after the film was completed. The studio then believed that the short was too scary for young audiences, and that Burton had wasted the company's resources and time. It was later given a home video release in 1994, after the success of Burton films like Batman and Pee-wee's Big Adventure. You can watch the entire Frankenweenie short in three parts, embedded below:
The movie version of Frankenweenie is set to follow the original story pretty closely, with some obvious expansion on the ideas and some new characters. Character descriptions in a leaked casting call include a Japanese boy who creates a Godzilla-like lizard and a middle-eastern boy who brings his mummified hamster back to life.
While I wasn't a very big fan of Burton's most recent work in Alice in Wonderland, there's plenty of potential for this film to have an incredibly unique look in black and white and 3D. Add to this Burton's excellent stop-motion sensibility, having produced two films by Henry Selick and directed Corpse Bride himself, and we could have the makings of a really special and unique animated feature.
Your Daily Blend of Entertainment News
Thank you for signing up to CinemaBlend. You will receive a verification email shortly.
There was a problem. Please refresh the page and try again.