A Doctor Who Movie? Why You Shouldn't Hold Your Breath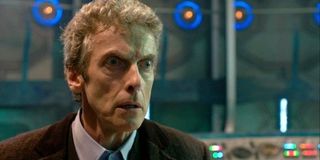 The venerable science fiction adventure series Doctor Who has been plugging away on the BBC for more than five decades at this point. While there are hundreds of episodes of television for devoted fans to pore over again and again, Whovians have often wondered about the possibility of a feature film addition to the canon. There's a simple answer to that question, don't hold your breath.
At the Television Critics Associate summer press tour, writer, producer, and showrunner Steven Moffat talked to Entertainment Weekly about a variety of topics. Subjects included the role Game of Thrones star Maisie Williams plays next season, how long current Doctor Peter Capaldi will be around, and the movie question. When this came up, Moffat responded:
Moffat sounds pretty adamant that we're not going to get a Doctor Who movie, and if anyone is in the position to know about such things, it's probably going to be the guy who is in charge of the series, isn't it?
It make sense that Moffat and Doctor Who would want to stay away from a movie. They've spent years creating a method that works for them. And to be honest, at least with the modern incarnation of the series, with longer episodes and numerous specials like the popular Christmas episodes, they're not so different from movies. Especially for American audiences, who are used to our "hour-long" shows running around 43 minutes, a 60-minute episode of Doctor Who feels somehow more cinematic. And if you asked diehard fans if they'd rather have one movie or a bunch of episodes, you have to imagine they'd rather have more adventures.
But if you're absolutely set on seeing Doctor Who on a movie screen, you'll get your chance in relatively short order. As announced at San Diego Comic-Con a few weeks back, series 9 is set to premiere on September 19. In advance of that, Fathom Events is prepping a special treat for fans on September 15 and 16.
Not only will they show the two-part series 8 finale, "Dark Water" and "Death in Heaven," in 3D at movie theaters, the event will also feature "The Doctor's Meditation," described as a "prequel scene" to series 9. What exactly that means we'll have to wait and see, but it's sure to get fans pumped ahead of the new episodes. In addition to the episodes, there will also be an exclusive interview with series stars Peter Capaldi and Jenna Coleman, all emceed by long-time fan Wil Wheaton.
Your Daily Blend of Entertainment News
Thank you for signing up to CinemaBlend. You will receive a verification email shortly.
There was a problem. Please refresh the page and try again.