Dolly Parton And Queen Latifah Teaming Up For Gospel Choir Movie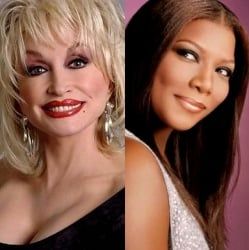 If I'm judging our readership correctly, most of you probably aren't too excited about the news that Queen Latifah and Dolly Parton will be teaming up for a gospel movie-- but I'm excited, dammit, and I'm sharing it with you all anyway. Not only will two of the toughest and most independent women in the music industry be featured in the same film, but based on the plot description given to Variety, they'll start the movie by duking it out for power:
Latifah's character will be a single mom put in charge of the hour when the director dies, while Parton's is the director's widow who naturally assumed that she'd get the job-- and given that she's got Dolly Parton's pipes, I can't say I blame her. Though Latifah's had a steady film career going on for the better part of the last decade, Parton's only recent screen appearances have been on TV for Hannah Montana and Reba. But you only need to see her performance at the 2006 Oscars (embedded below) to know she's still got it, and may very well be better than ever.
Though Todd Graff got very little box office traction with his last film Bandslam, he'll be returning to music again with this one, directing his own original screenplay. Even though critics were apparently the only people who saw Bandslam, they mostly liked it, so there's probably more to look forward to from this film beyond the match-up of two exceedingly powerful music divas. The inevitable radio single of Latifah and Parton singing together is going to be tremendous, I'll tell you that much.
Your Daily Blend of Entertainment News
Staff Writer at CinemaBlend