Don Cheadle Says His Miles Davis Biopic Will Be A Gangster Pic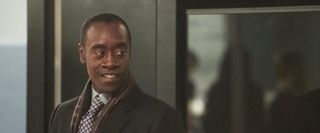 Don Cheadle has been trying to get a biopic of jazz legend Miles Davis made for ages now, planning to direct and star himself. It had sort of dropped off the radar in recent years, and the announcement back in November that director George Tillman Jr. was heading up a Davis biopic left some wondering what that meant for Cheadle's long-gestating project. A new interview with the Wall Street Journal reveals that Cheadle's project is, in fact, not dead, and may also be taking a form nobody would have expected.
First off, there's some good news for anyone looking forward to Cheadle's take on the musician. Cheadle told the newspaper that they've got a studio offer for the film, and that right now they're negotiating about budget. Good to hear, great to see things progressing. That, however, is when things start to get weird. Cheadle explains his take on the story:
So...it's a biopic about one of the last century's most famous musicians, set in a period when he wasn't performing music, and it's also somehow a gangster movie. And we haven't even begun to parse the whole "cubist" thing yet. (Maybe it's about Bizarro Miles Davis.) Suffice to say, I have no idea what Cheadle's Miles Davis movie will look like, but I'm definitely intrigued.
Cheadle also says that he's not worried about the competing George Tillman Jr. project:
No, Don, I think you've probably got the market cornered on cubist Miles Davis gangster movies. Cheadle will be appearing in the new Showtime series House of Lies beginning this Sunday. Stay tuned to Cinema Blend for more on his Miles Davis project (cubes and all) as we learn it.
Your Daily Blend of Entertainment News
Thank you for signing up to CinemaBlend. You will receive a verification email shortly.
There was a problem. Please refresh the page and try again.