Doug Liman To Direct Spy Thriller The Tourist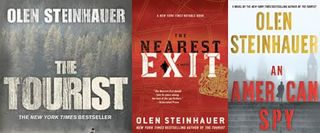 Director Doug Liman redefined the spy genre with his groundbreaking thrill ride The Bourne Identity, adapted from the Robert Ludlum novel. While that feature has spawned a string of top-rate action epics with Liman on board as producer, he is now poised to kick off a new potential spy franchise for Sony Pictures.
Deadline reports Sony has optioned Olen Steinhauer's Milo Weaver trilogy, which centers on a retired CIA agent who's living a quiet life with a wife and kid in a brownstone in Brooklyn - that is until one of his old colleagues is pulled into a scandal that forces Weaver back into the spy game. Sony is gearing up to translate the first book of the series, The Tourist, into a pulse-pounding thriller, and so has brought Liman on board to produce and direct from a script adapted by Matt Corman and Chris Ord, the scribes behind the USA spy drama Covert Affairs, which is now in its third season.
Curiously, The Tourist was originally purchased by George Clooney's production company, Smokehouse Pictures, back in 2009 with plans for Clooney to star as Weaver. Perhaps after The Men Who Stare At Goats and The American Clooney soured on spy roles, as there's no mention of him in the Deadline update. With Clooney in mind, it'll be interesting to see who Liman selects for his leading man. But really, the first order of business should be picking another title, as Angelina Jolie and Johnny Depp's critically reviled domestic flop The Tourist hit theaters little more than a year and a half ago. Best to get as much distance from that one as you can manage.
Your Daily Blend of Entertainment News
Staff writer at CinemaBlend.