DreamWorks Lays Out Attack Plan For Next Four Years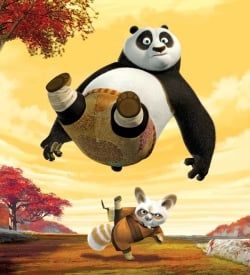 With Kung Fu Panda last year, DreamWorks Animation proved themselves as more than just "that animation studio that's not as good as Pixar." And now they're going to ensure we never forget it. Yesterday the studio announced their production slate for the next few years, including everything from the inevitable Kung Fu Panda sequel and fourth Shrek film to a new superhero comedy starring Robert Downey Jr. and Tina Fey.
It's hard to pick the new news from the old news in Variety's writeup of the event, but the new title for Kung Fu Panda 2-- Kung Fu Panda: The Kaboom of Doom-- is definitely new, as is the official casting of Jack Black and Dustin Hoffman. They've set June 3, 2011 as the release date for that one, while Shrek Forever After will come at some point next year.
As for the new stuff, next year we're getting How to Train Your Dragon, which is this movie with the killer cast, and Oobermind the Fey-Downey starrer about a disappointed superhero.
Oh, but wait, we're not actually done with familiar stories. Coming in 2011 along with Kung Fu Panda 2 is The Guardians, an adaptation of a soon-to-be-published book series that teams up familiar mythical characters-- Easter Bunny, Tooth Fairy, Sandman, etc.-- to fight an evil villain. Then there's also Puss in Boots, a spin-off of Shrek starring Antonio Banderas as the titular character and Salma Hayek as his love interest. With Puss in 2012 comes a third Madagascar movie-- where they'll be breaking out of this time, who knows.
In the distant future there are a few projects angling for a Nov. 12, 2012 release date-- caveman comedy The Croods, fantasy Truckers and the self-explanatory Super Secret Ghost Project. Variety has more information on all these titles and, of course, the crucial detail that they'll all be made in 3D. But all we really seem to know is that DreamWorks is fighting hard for that animation crown, and in terms of sheer product output, they're probably winning.
Staff Writer at CinemaBlend
Your Daily Blend of Entertainment News
Thank you for signing up to CinemaBlend. You will receive a verification email shortly.
There was a problem. Please refresh the page and try again.