Drew Barrymore Directing Wizard Of Oz Prequel Surrender Dorothy?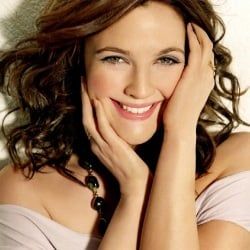 Drew Barrymore's directorial debut Whip It was tragically underseen when it came and went last fall, but those of us who saw and loved the coming-of-age roller derby tale recognized that Barrymore has been paying attention in the lifetime she's spent on movie sets-- girl can direct a movie. So it brings me nothing but joy to read Pajiba's report that Barrymore is considering for her next directing vehicle Surrender Dorothy, a Wizard of Oz sequel that stalled in development back in 2002, when Barrymore was merely attached to star.
Pajiba doesn't know if Barrymore would still star, but she's also on board as a producer through her Flower Films. The script by Zach Helm (who went on to do Stranger Than Fiction) follows Dorothy's great-great-granddaughter, who must use the ruby red slipper to keep the Wicked Witch of the West from taking power (no word on exactly how the witch recovers from her water bath). Obviously the character could be any age, but I'm guessing Barrymore is now a little old to play the part and might hand the part over to another up-and-comer-- Pajiba suggests Barrymore's Whip It star Ellen Page, and I couldn't like that suggestion more.
There are a lot of other Oz adaptations in the works right now, from Disney's prequel starring Robert Downey Jr. to Todd McFarlane's dark take that he constantly talks about but will probably never happen. It's not clear if Barrymore is moving forward on Surrender Dorothy quickly enough to beat out any of the other projects, but if the success of Wicked proves anything, we have an endless appetite for new takes on the classic story in the Emerald City.
Your Daily Blend of Entertainment News
Staff Writer at CinemaBlend