The Best Fantasy Movies To Watch Streaming Right Now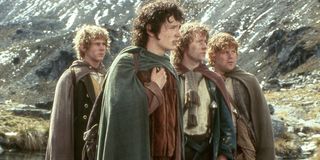 CinemaBlend participates in affiliate programs with various companies. We may earn a commission when you click on or make purchases via links.
I grew up on fantasy movies. For a kid who was admittedly a bit of a loner, fantasy was my way of escaping this world and stepping into a new one, and now, years later and all grown up, there's still a special place in my heart for fantasy movies and sagas that could never be replaced.
One of those sagas that I grew up loving was Harry Potter, and while it's a fantastic series, there are so many other fantasy movies to see. From The Lord of the Rings to The Chronicles of Narnia, anyone can enjoy some magic, dragons, and fantastical adventures every once in a while. With that in mind, here are the best fantasy movies and sagas currently streaming.
The Lord Of The Rings Saga (HBO Max)
If you haven't heard of The Lord of the Rings, I don't know what rock you've been living under. This famous Academy-Award-winning franchise follows a group of heroes, who are sometimes a bit reluctant to step into that role, as they step out to the world to save it from evil, based on the novels by J.R.R. Tolkien.
This saga is famous for a reason. Not only is the story compelling, filled with plenty of fantasy adventure along the way with dragons and magic, but the visual effects are breathtaking. Even now, two decades after the first movie arrived in theaters, I still stand in awe whenever I watch the Battle of Helm's Deep. Directed by the brilliant Peter Jackson, the fantasy world surrounding this astonishing series will take your breath away.
Stream The Lord of the Rings saga on HBO Max (opens in new tab)
Rent The Lord of the Rings saga on Amazon. (opens in new tab)
Princess Mononoke (HBO Max)
Up first of the two Studio Ghibli films here, Princess Mononoke is a perfect early example of the fantasy worlds that Studio Ghibli can create. It takes place in the late Muromachi period of Japan and follows a young Emishi prince and his involvement with the humans and the gods who control the forest.
Studio Ghibli movies are filled to the brim with wonderful color and beautiful animation, but Princess Mononoke has plenty of fantasy elements added in there as well to make the film feel even more vibrant. Hayao Miyazaki has some of the best-animated films out there in my opinion, and Princess Mononoke is certainly on that list.
Stream Princess Mononoke on HBO Max. (opens in new tab)
Rent Princess Mononoke on Amazon. (opens in new tab)
The Princess Bride (Disney+)
You want to talk about classic fantasy, look no further than the iconic The Princess Bride. Adapted from the novel of the same name, The Princess Bride follows Westley, a farmhand who, with the help of some companions along the way, must rescue his true love, Princess Buttercup, from Prince Humperdinck.
The film itself is loved by many fantasy lovers for its solid story and fun fantasy aspects, but for me, it's always been the awesome cast featured in this film. With big stars like Robin Wright, Billy Crystal, Andre the Giant and so many more, it's worth a watch for anyone, even if fantasy isn't your favorite genre. The comedy will keep you going no matter what.
Stream The Princess Bride on Disney+. (opens in new tab)
Rent The Princess Bride on Amazon. (opens in new tab)
Pan's Labyrinth (Netflix)
Guillermo del Toro has always been a master of horror, visual effects and so much more, but did you know that can use that in fantasy too? Pan's Labyrinth, directed and produced by del Toro, tells the story of our world intertwining with a mythical one, five years after the Spanish Civil War, where everything is centered on an overgrown labyrinth.
I really can't get into the plot of this film without giving much away, for those who haven't seen it, but trust me when I say that Pan's Labyrinth is considered a classic in cinema for a reason and one of the best movies on Netflix. The make-up, special effects, animatronics, and CGI alone could carry this film even if the story wasn't good, but it's truly an immersive and fantastical tale of fantasy, mixed in with several real-world elements like fairytales and mythical creatures.
Stream Pan's Labyrinth on Netflix. (opens in new tab)
Rent Pan's Labyrinth on Amazon. (opens in new tab)
The Wizard of Oz (HBO Max)
I mean, I can't have a fantasy list without mentioning one of the first big-time movies. The Wizard of Oz is all about Dorothy, a young woman who is whisked away to a wonderful world of color after her home is hit by a tornado. It's up to her, plus some friends she meets along the way, to find her way back home and avoid the Wicked Witch of the West.
The movie itself is fantastic and has inspired many bodies of work after it, including the musical Wicked and the spinoff of that, The Wiz, both of which are filled with amazing music just as the first film. Judy Garland's voice is beautiful to listen to any day of the week, and no matter how many fantasy movies you might have seen, the transition from black and white to color in this film is one of the best scenes in cinema. A true masterpiece.
Stream The Wizard of Oz on HBO Max. (opens in new tab)
Rent The Wizard of Oz on Amazon. (opens in new tab)
Spirited Away (HBO Max)
Our second and more recent Studio Ghibli film on this list, Spirited Away is a different type of fantasy film. This Academy-Award winning movie follows the story of Chihiro, a young girl who mistakenly enters the world of Kami after her parents are turned into pigs.
As a child, I don't think I ever quite understood this story as much as I do now. Not only does Spirited Away have stunning animation and really cool fantasy elements with the inclusion of magic and sorcery with the witches and spirits here, but the story is also fantastic. There are several messages of what true love is like, friendship, and the ability to believe in oneself. Hayao Miyazaki knocks it out of the park again on this one.
Stream Spirited Away on HBO Max. (opens in new tab)
Rent Spirited Away on Amazon. (opens in new tab)
The Spiderwick Chronicles (Netflix)
Next up, we take a look at The Spiderwick Chronicles, the tale that follows three children who encounter a book that tells them all about fairies, while also encountering magical creatures of their own, such as ogres, goblins, boggarts, and many, many more.
If we want to talk about purely magical, The Spiderwick Chronicles is the way to go. The number of magical creatures they are somehow able to pack into this hour and a half long film will astound you so much that you'll believe you're watching something like Fantastic Beasts and Where To Find Them. Plus, a young Freddie Highmore of The Good Doctor fame does a fantastic job playing the dual Grace twins, considering they are both so different in character.
Stream The Spiderwick Chronicles on Netflix. (opens in new tab)
Rent The Spiderwick Chronicles on Amazon. (opens in new tab)
The Dark Crystal (Starz)
I believe everyone has heard of The Dark Crystal at some point or the other, especially when studying Jim Henson. This '80s film written by The Muppets creator Jim Henson revolves around Jen, a Gelfling who is on a quest to restore balance to the world, and overthrow a horrible leader by restoring a powerful crystal.
This dark fantasy has plenty going for it. The animatronics, at the time, was considered groundbreaking, and the story itself is intensely interesting for any fantasy lover. While it's a bit darker than most of Henson's previous work, it shows that even puppets can be taken seriously. The Dark Crystal became so popular that it developed a cult following, and came out with a prequel series on Netflix in 2019.
Stream The Dark Crystal on Starz. (opens in new tab)
Rent The Dark Crystal on Amazon. (opens in new tab)
The Chronicles Of Narnia (Disney+)
Narnia has always fascinated me with how much magic and influence is involved with each of those books, and later kept me interested in the world of the movies. In The Chronicles of Narnia films, we take a look at the fictional realm of Narnia, a world that is populated by magical beasts and talking animals, where several children play central and important roles in the history that continues to develop.
I'll always be a little bit upset that there weren't any more Narnia movies after The Voyage of the Dawn Treader, but now I'm even more excited considering Netflix is apparently has plans to create new adaptations of the series. However, until those come out, the current The Chronicles of Narnia films will suffice. There's so much to the world of Narnia that can be explored, and these movies are just the beginning.
For fans of magic, mythical, and otherwise amazing creatures, this series is for you – and hopefully, there will be more in the future as well. The characters are entertaining, the cinematography breathtaking, and the sorcery imaginative.
Stream The Chronicles of Narnia on Disney+. (opens in new tab)
Rent The Chronicles of Narnia on Amazon. (opens in new tab)
The Harry Potter Saga (Peacock)
I can't make a list like this and not mention Harry Potter. In this famous movie saga, we follow Harry Potter, the boy who somehow survived the killing curse, "Avada Kedavra," when he was a baby. Now, it's up to him, his friends, and any other allies along the way to somehow stop the darkest wizard of all time, Voldemort.
This is the epitome of fantasy, that and The Lord of the Rings. There's nothing quite like Harry Potter. The friendship of Harry, Ron, and Hermione is one that can never be forgotten, but the side characters are just as amazing as well. The mythical creatures are innovative and unique, such as Buckbeak the Hippogriff, and the world-building within J.K. Rowling's story is absolutely phenomenal. It's hard to believe that places like this come from one author's head, but it's all here. There's so much upcoming for the world of Harry Potter that it's almost a must to re-watch this fantastic series.
Stream The Harry Potter saga on Peacock. (opens in new tab)
Rent The Harry Potter saga on Amazon. (opens in new tab)
With all these wonderful fantasy options, I wouldn't be surprised if you were whisked away to a magical world not that long from now. Whichever you choose either way will surely have you intrigued for days – or possibly even years – to come. Fantasy is the escape we all need – and luckily, there are plenty of options out there. Maybe even see if there are some fantasy options among the best movies on Amazon too. There are so many more out there besides this list, waiting to be viewed.
Your Daily Blend of Entertainment News
Big nerd and lover of Game of Thrones/A Song of Ice and Fire. Will forever hate season eight. Superhero and horror geek. And please don't debate me on The Last of Us 2, it was amazing!
Your Daily Blend of Entertainment News
Thank you for signing up to CinemaBlend. You will receive a verification email shortly.
There was a problem. Please refresh the page and try again.