The Early Days Of Letterman And Leno Becomes A Movie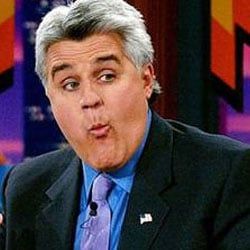 After all the controversy surrounding Conan's still fresh departure from NBC, it seems almost inevitable that someone, somewhere, will make a movie about it. After all, they did it back when Leno fought Dave. But Pajiba has a line on a far more interesting idea, a movie that takes us back to where it all started: at the Comedy Store.
According to Pajiba Tom Hanks' production company Playtone is putting together a movie based on the non-fiction book I'm Dying Up Here: Heartbreak and High Times in Stand-up Comedy's Golden Era. In the late 70s and early 80s, The Comedy Store was a training ground for most of the most famous comedians working today. Eddie Murphy, Chevy Chase, Jim Carrey, Tim Allen, David Letterman, Jay Leno, Richard Lewis, Robin Williams; they all worked out their greatest bits on stage there. Back then, Letterman and Leno were friends and the Store was run by the mother of Pauly Shore, Mitzi Shore who, incidentally, didn't think she should have to pay her desperately poor stand-up comics. The book and the film focuses on that time and place, when some of the comics revolted and went on strike. Mitzi responded by banning those who spoke out, leading to the suicide of comic Steve Lubetkin who left only this note behind: "My name is Steve Lubetkin. I used to work at the Comedy Store."
It feels like there's a need for this movie. The world of stand-up comedy has never really been properly explored on film. Judd Apatow tried last year with Funny People but got lost in an unwieldy adultery subplot which had nothing to do with what it's like being alone up there on stage. By contrast, I'm Dying Up Here is described as something more akin to The Late Shift, HBO's 1996 movie on the Leno/Letterman late night feud. That sounds like a great way to go with the film as well. No word on which famous names might end up being portrayed in it, but since Letterman, Leno and so many names are involved in the book, it seems impossible to make a movie out of it without them.
Your Daily Blend of Entertainment News