Edgar Wright Celebrates Shaun Of The Dead Anniversary With Behind-The-Scenes Photos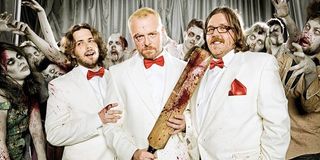 It's crazy how time flies! It was ten years and two days ago that Shaun of the Dead, the zom-rom-com that launched Edgar Wright, Simon Pegg and Nick Frost to international acclaim, began its first day of shooting. To celebrate, Wright, who co-wrote and directed the sensational flick, is getting nostalgic and sharing behind-the-scenes shots from the film's production every day for the next several of weeks. You can follow the progress of these posts on his personal site, and below see some of the excerpts from his reveals so far.
On the first day of shooting, Wright's crew tackled one of the film's most complicated setups, the long walk Shaun takes through his daily routine, oblivious to the zombies that have replaced his formerly lovely neighbors. Below you can see the shot list as well as an insert shot of the newspapers from just before the rise of zombies.
On day two the crew captured a bunch of exteriors outside Shaun's house. Wright vaguely recalls a children's birthday party nearby and wonders if the kiddies attending where traumatized by the grisly undead strolling around. If so, he apologizes.
Day three was the when Wright and company shot a zombie being run down by Pete's car, as well as the darkly funny shot of a zombie wriggling about within an ambulance's body bag. Then the production ran into some irksome troubles, which had nothing to do with the unfortunate bloke below.
Keep checking back with Wright's site, as he'll be posting more personal photos, movie stills, rushes and continuity photos from the 2003 production of Shaun of the Dead for us all to obsessively pour over. In the meantime, revisit the final results of the first day of shooting below:
And look for Wright, Pegg and Frost to reunite this summer in The World's End!
Your Daily Blend of Entertainment News
Staff writer at CinemaBlend.
Your Daily Blend of Entertainment News
Thank you for signing up to CinemaBlend. You will receive a verification email shortly.
There was a problem. Please refresh the page and try again.