Elena Anaya Joins Oscar Isaac For Inertia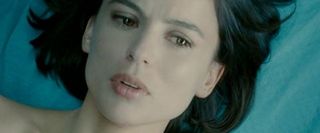 Despite being a part of one of the most disappointing films of 2011, actor Oscar Isaac's career is undoubtedly on the rise. Presently he's playing the title character of the Coen Bros' in-production period piece Inside Llewyn Davis, and according to Variety, next up for the Guatemala-born performer is another headlining role, this one from Spanish director Gonzalo Lopez-Gallego (Apollo 18).
Titled Inertia, this Spanish-language action-thriller, penned by Lopez-Gallego and Fernando Navarro, has just secured Spanish stunner Elena Anaya, the breathtaking star of Pedro Almodovàr's (The Skin I Live In) to co-star opposite Isaac. He will play the film's central figure, an immigrant whose life takes on a drastic new direction once he chooses to chase down the at-fault driver of a grisly hit-and-run. Anaya will take on the role of his old flame, whose romantic interest is reignited amidst the heart-pounding adrenaline of the feature's "non-stop" chase.
Despite the thriller's contradictory title, Inertia seems to have a lot going for it. The intriguing premise sounds like a crazy yet curious cross between A Better Life and Drive. Couple this with two headliners who possess an exotic allure and unmistakable screen presence and Inertia could be downright exhilarating. Still, there's more to Anaya and Isaac than sex appeal or charisma. There's also raw talent. Last year, Anaya won over critics worldwide with her layered and tender portrayal of the incredibly complicated protagonist at the center of Almodovàr's horror-inspired melodrama, and Isaac managed to play a reprehensible character in Zack Snyder's incomprehensible Sucker Punch, yet still came out of it smelling like a rose. Both mean feats that made a promise to moviegoers of more great things to come. Thankfully, with Inertia going into production in Spain this August, audiences won't have to wait too long.
Inertia is expected to hit theaters in 2013.
Your Daily Blend of Entertainment News
Staff writer at CinemaBlend.