Elizabeth Banks' Walk of Shame Adds A Cluster Of Comedians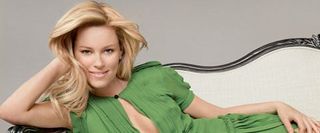 As you can guess from the title Walk of Shame, the latest comedy from writer-director Steven Brill is about one woman's particularly rough morning, following a drunken one-night stand. Elizabeth Banks stars as this uptight and unlucky lady who must not only wander out into the daylight hours in her last night wear, but also loses her phone, money, ID, and keys, yet must still maker her way across Los Angeles to get to a crucial job interview for a new anchor position she desperately wants.
Previous casting updates have revealed that James Marsden and Community's Gillian Jacobs will co-star with Banks in this post-coital comedy. Now Lakeshore Entertainment and Sidney Kimmel Entertainment are proud to announce the cast has expanded to include Bill Burr (Stand Up Guys), Liz Carey (The 40-Year-Old Virgin), Ken Davitian (Borat), Willie Garson (Sex and the City), Lawrence Gilliard Jr. (Would You Rather), Oliver Hudson (Rules of Engagement), Alphonso McAuley (Breaking In), Kevin Nealon(Weeds), Ethan Suplee (My Name Is Earl), Sarah Wright (Parks and Recreation) and stand up comic Tig Notaro, who memorably did a set this year about her cancer diagnosis that Louis C.K. publicly praised, and later released on his website. (It's now available on iTunes.)
I know, that's a lot to take in. But from the sheer number of noteworthy supporting players listed here, we can begin to get some grasp of just how wild Banks' morning misadventure will get. And frankly, it's about damn time Banks got a comedy of her own. It's good to see Walk of Shame's producers backing her up with a spectacular supporting cast.
Staff writer at CinemaBlend.
Your Daily Blend of Entertainment News
Thank you for signing up to CinemaBlend. You will receive a verification email shortly.
There was a problem. Please refresh the page and try again.