Elton John's Rocket Pictures To Make NERDS Movie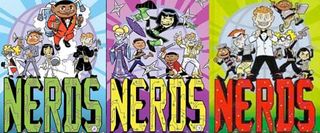 After the rousing financial success that was Gnomeo & Juliet, pop icon turned executive producer Elton John is looking to tackle family-friendly animation once again. Deadline reports that his production company Rocket Pictures, which is developing John's musical biopic Rocketman, has just secured the rights to adapt Michael Buckley's wildly popular book series N.E.R.D.S..
The novels, aimed at ages 8 and up, follow the misadventures of a group of socially awkward grade-schoolers—well, nerds—who lead secret lives as child spies thanks to their seemingly nerdy superpowers. (Turns out the acronym N.E.R.D.S. is short for National Espionage, Rescue, and Defense Society.) Steve Hamilton Shaw, who is set to produce the film alongside David Furnish, explains why N.E.R.D.S. is such a great fit for Rocket Pictures, saying:
By "huge potential," it's likely Shaw is alluding to hopes of spinning Buckley's growing series into a family-friendly franchise/cash cow. With a barrage of kooky characters that includes an asthma-afflicted but fiery weapons expert/wrestling enthusiast, a brainiac with literally hypnotic buckteeth, and a former child pageant queen turned assassin, it's easy to imagine N.E.R.D.S. being developed into a sprawling film series. Additionally, as N.E.R.D.S. is a group diverse in background, heritage, cliques, and gender, a film adaptation could prove a welcomed progressive entry into the world of kid-aimed adventure. Plus if Rocket Pictures plays their cards right, they'll craft a quirky kids tale that will also lure in adults who've grown hungry for savvy animated outings.
There's no word yet on who Rocket Pictures will hire to pen or direct their N.E.R.D.S. adaptation.
Staff writer at CinemaBlend.
Your Daily Blend of Entertainment News
Thank you for signing up to CinemaBlend. You will receive a verification email shortly.
There was a problem. Please refresh the page and try again.