Emmerich Planning 2 New Independence Days Sequels, ID4-Ever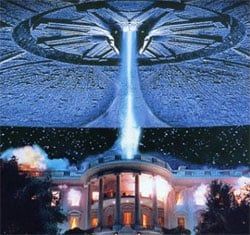 Late last week we exclusively told you here about director Roland Emmerich's plan to resurrect the Independence Day franchise with a sequel inspired, in part, by President Obama. Since then he's revealed even more details and even floated an incredibly lame name for the sequel, should it ever happen.
Talking to MTV Emmerich revealed that they're actually planning more than one Independence Day sequel. He says, "What we want to do in the next – it's actually two movies – we want to do a bigger arc."
So what exactly will that arc be about? In his interview with our own Katey Rich he told us that he saw Independence Day as the story of a king leading his country against an invader. It seems likely he'll continue that theme, only as he explained to us, with Obama as his kingly avatar. Explains Emmerich, "The idea is just to continue the story and actually I don't know how many years ago this was—twelve, thirteen, fourteen years ago—and just continue where it ended."
Ultimately it's Independence Day and there's only really one thing it can be about. Alien invasion. The title, though, will need to be different. Emmerich suggests "ID4-ever. Part I and II maybe?" That's a pretty horrible name Rolly. You'll have to do better.
In case you missed it, here's our discussion with Emmerich from last week on the subject of making Independence Day 2 a reality and why the sequel couldn't have happened without Barack Obama:
Your Daily Blend of Entertainment News
Thank you for signing up to CinemaBlend. You will receive a verification email shortly.
There was a problem. Please refresh the page and try again.