Evan Rachel Wood Will Star In 10 Things I Hate About Life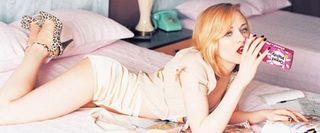 For many of us, the title 10 Things I Hate About Life calls to mind a certain beloved '90s teen comedy called 10 Things I Hate About You, a contemporary take on William Shakespeare's The Taming of the Shrew set in a high school on the West Coast. Written and directed by the '90s classic's helmer Gil Junger, 10 Things I Hate About Life is totally meant to call to mind all the positive associations you might have with the movie, while having absolutely nothing to do with it.
When word on this film first emerged last spring, Junger was suggesting it was a sort-of sequel to the original, insisting the story—of two lovers whose romance is sparked when they meet en route to attempt suicide—would "advance the situations from the original." If that makes zero sense to you, you're not alone. Thankfully, the ruse of it being a sequel has been completely abandoned, as Deadline reports Evan Rachel Wood will play the female lead. Previously, Captain America's Hayley Atwell was set to star, but no mention is made of her in this latest casting item, so it seems safe to assume she's moved on to other projects, like perhaps Captain America: The Winter Soldier.
It's hard to imagine this film as anything other than Junger desperately attempting to revive his relevance. Back in May he full-on admitted that 10 Things I Hate About You's continued popularity made more in residuals last year than he was paid for directing it. Hearing that, it's hard to believe that this title isn't meant as a blatant attempt to appeal and—let's be honest—trick fans of the original into paying attention to Junger once more. But real talk time: Evan Rachel Wood is no Julia Stiles.
10 Things I Hate About Life will go into production in Los Angeles soon.
Your Daily Blend of Entertainment News
Staff writer at CinemaBlend.
Your Daily Blend of Entertainment News
Thank you for signing up to CinemaBlend. You will receive a verification email shortly.
There was a problem. Please refresh the page and try again.