Every Fantastic Four Mistake, In One Hilarious Video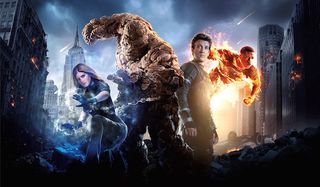 After a seven-year absence from theaters, 20th Century Fox rebooted the Fantastic Four last year to give Marvel's First Family another shot at success on the big screen. Unfortunately for them, the darker tone and deeper focus on sci-fi didn't guarantee a good story, and the film was a critical and commercial flop, the latest in a string of cinematic bad luck for the characters. That makes it especially good fodder for an "Everything Wrong With…" video. If you have 20 minutes to kill, then buckle up.
In keeping with their usual M.O., the folks over at CinemaSins turned their attention to all the problems with 2015's Fantastic Four. They start off with Reed Richards as a young boy and how someone who's "smarter than God" was still in a public school. Fast forward seven years, and then we get into the real meat of the movie's offenses, from how Victor was somehow employed at the Baxter Foundation despite his instability to how ridiculously long the origin story aspect was. Don't even get them started on that final climactic battle. By the time the video is finished, the movie tallied 149 "sins." Surely they could have found at least one more to make it an even 150, right? Also, they bring up a question that's been on many fans' minds for years: why isn't Tim Blake Nelson (who played Dr. Harvey Allen) The Leader in the Marvel Cinematic Universe yet?!
It's usually clear that these "sin" videos nitpick a lot of minor details and issues, but for Fantastic Four, most of these criticisms feel appropriate. Overall consensus was that the movie was a major disappointment, which in hindsight isn't surprising given all the problems behind the scenes. Even director Josh Trank tweeted about how the Fantastic Four moviegoers would see wasn't his version, and while he quickly deleted the tweet, the damage was done days before it was released. The movie subsequently earned overwhelmingly negative reviews from both critics and fans, and it later earned five Razzie nominations.
Because of Fantastic Fourr's poor reception and small gross, it's unclear if the series will continue. Originally Fox set Fantastic Four 2 for release in 2017, but last November they took it off their schedule. That doesn't mean it's been officially cancelled yet, but right now things aren't looking good. If the Fox executives are still not certain about moving forward, maybe they should look at these "sins" for themselves. That might make the decision a lot easier.
If you want to spot these mistakes for yourself, Fantastic Four is available on DVD, Blu-ray, and digital purchase, but you're probably better off just watching this video again if you have even the slightest interest in seeing this iteration of the superhero family.
Connoisseur of Marvel, DC, Star Wars, John Wick, MonsterVerse and Doctor Who lore. He's aware he looks like Harry Potter and Clark Kent.
Your Daily Blend of Entertainment News
Thank you for signing up to CinemaBlend. You will receive a verification email shortly.
There was a problem. Please refresh the page and try again.