Even The Fantastic Four Cast Knows Fantastic Four 2 Is In Trouble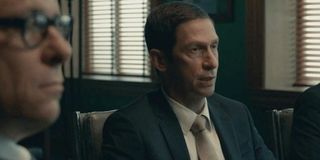 20th Century Fox had huge plans for Fantastic Four. Sequels were confirmed, while it was even believed that Miles Teller, Michael B. Jordan, Kate Mara and Jamie Bell's quartet would crossover into the same universe as the X-Men. But then the film flopped. Massively. Since then, we've been waiting for confirmation regarding the future of Fantastic Four 2. (A movie that still has a release date.) And now Tim Blake Nelson, who starred as Dr. Harvey Allen in the catastrophic blockbuster, has basically confirmed that it won't be happening.
I had the chance to speak with Nelson over the phone earlier, where we talked about his upcoming film Anesthesia, which he wrote and directed. During our chat, I decided to quiz Tim Blake Nelson for some clarity about Fantastic Four 2, and he admitted that he doesn't expect it to happen.
While Tim Blake Nelson rather generously insisted that he's still not 100% sure about The Fantastic Four sequel's status, I think we can all see that it would be a huge leap of faith for 20th Century Fox to greenlight a follow-up at this juncture.
With 2005's Fantastic Four and 2007's Fantastic Four: Rise Of The Silver Surfer deemed as cute but far from weighty additions to the comic-book genre, it was hoped that the 2015 reboot would bring the medium's favorite foursome to light in a fashion akin to Batman Begins, Iron Man, and Captain America. But production problems soon piled up, which were followed by mandated reshoots, all of which provoked director Josh Trank to send out a Tweet chastising his own film before it was even released.
The public could smell a flop, and they reacted by simply ignoring its release. Fantastic Four grossed just $168 million from a $120 million budget, and because of the tepid response to the original films, it was soon deemed that the series was box office poison.
However, 20th Century Fox had already decided ahead of Fantastic Four's release that the sequel would happen, even tentatively scheduling its release date for Summer 2017. But the poor response to Trank's Fantastic Four instantly led experts to predict that the film wouldn't happen.
Then things became murkier, as it was later reported that Fox planned to produce the sequel in an attempt to salvage the franchise, while it was teased that Simon Kinberg, who wrote and produced the original films, would work on the second Fantastic Four film. Tim Blake Nelson's quote suggests that the film's future isn't quite as rosy though. (However, his fate in the Trank story might mean he wouldn't be aware of a sequel... no spoilers.)
Meanwhile, Anesthesia is due out on Friday, and it stars Kristen Stewart, Sam Waterston, Corey Stoll, Gretchen Mol, Glenn Close, as well as Tim Blake Nelson himself. So thankfully, the talented performer is doing just fine.
Your Daily Blend of Entertainment News