Exclusive Cars 2 Character Debut: Meet Siddeley The Spy Jet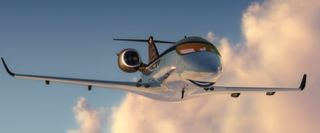 We already know that the world of Cars 2 is going to be a whole lot bigger than what we saw in the original film, as Lightning McQueen participates in the Grand Prix race all over the world, and Tow Mater, thanks a huge mix-up, gets caught up in an international spy operation. The world is so big, in fact, that we'll be introduced to an entirely new kind of vehicle with its own personality: a jet. Today we're bringing you the exclusive first look at Siddeley, the character voiced by Jason Isaacs who is a state-of-the-art British twin-engine spy jet, and the partner-in-fighting-crime for the spy Finn McMissile, voiced by Michael Caine.
Take a look at two brand-new images of Siddeley below, along with his official character description; larger versions of both images are available in the gallery at the bottom of the post. I've also embedded the trailer that went online back in November, where you can briefly spot Siddeley in action. If you take a close look at his tail you'll notice the number A113, the Easter Egg that's appeared in every single Pixar film, referring to the classroom at Cal Arts where many of Pixar's greats got their start. And as for the voice, Isaacs is a British veteran of both theater and film, and has spent the last decade playing the vicious Lucius Malfoy in the Harry Potter films.
Cars 2 hits theaters on June 24; to see more characters from the film and learn more about it, visit our Blend Film Database.
Staff Writer at CinemaBlend
Your Daily Blend of Entertainment News
Thank you for signing up to CinemaBlend. You will receive a verification email shortly.
There was a problem. Please refresh the page and try again.