Exclusive Interview: Land Of The Lost Director Brad Silberling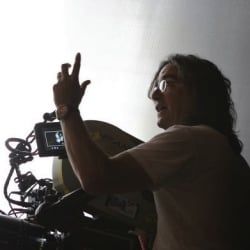 No matter what you saw about the visual effects of the original Land of the Lost and how bad the stop-motion animation looked, Brad Silberling doesn't remember it that way. "I didn't see the kitsch," he remembers about watching the show as a kid. "I filled in the blanks in the memory, in my head."
So when Silberling was picked by Will Ferrell to direct a new feature version of Land of the Lost, he says he wanted to honor the visuals of the old show without straight-up mocking them. "As I said to Will early on, if you just went and tried to do bad stop-motion dinosaur animation with puppetry, the trouble is it would become a parody, and then it would be good for about 8 minutes and then it would become and SNL sketch."
As he went in to tackling the mammoth project that is Land of the Lost, which stars Will Ferrell as the egotistical scientist Rick Marshall, Silberling says he wanted to make sure he had a grip on the characters before getting into the real adventure story. As we begin the conversation that you can hear below (with visual aids!), Silberling was telling me about some of the elements he added to the original script. "The danger with a comedy premise can be that you have an idea, and it's just sort of riffing from there. If you took three characters that were all going to end up in the Land of the Lost, each of them needed to be lost in their own way, sort of lost souls."
The lost souls Silberling created were Marshall, whose scientific discoveries have all been met with disdain; Holly, whose reverence for Marshall's work got her kicked out of Cambridge; and Will, a theme park operator looking for a new place to go in life. And from there, Silberling thought it was OK to chase them around with a CGI dinosaur-- and let the actors have fun too. "I prided myself on wanting to create a complete safe and unrestrictive playground for us. I really wanted the film to feel oddly loose and at times almost banal. I shot a lot of the film very off the shoulder and handheld. not highly formalized. I didn't want it to feel like a restrictive effects movie."
In addition to talking about Land of the Lost, which opens today, I was also happy to ask Silberling about his feature debut, 1995's Casper, which may not be the world's most loved movie but was certainly a childhood favorite of mine. Silberling, who was picked by Spielberg to make the film (and who apparently got to call Spielberg an asshole in the process), talked about the challenges of creating a CGI character at a time when barely anyone knew how to work with CGI animation, and how creating Casper differed from creating, say, a giant dinosaur named Grumpy.
Listen to our entire, 10-minute-long interview below, and check out Land of the Lost in theaters starting today.
Staff Writer at CinemaBlend
Your Daily Blend of Entertainment News
Thank you for signing up to CinemaBlend. You will receive a verification email shortly.
There was a problem. Please refresh the page and try again.