Expendables 3 TV Spot And Motion Poster Offer Trainwrecks, Explosions And Crazy Mel Gibson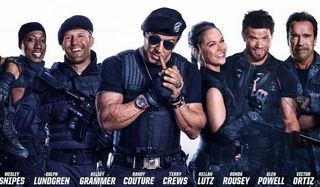 The lineup that Sylvester Stallone has pulled together for the third installment of his Expendables film series is positively insane. Expendables 3's roster reads like a who's who of movie badasses from past and present, so why not show them all off with a little Sly swagger and explosions? Enter the brand new motion poster you see above.
Sylvester Stallone co-wrote The Expendables 3, and in this action-packed adventure he reprises his role as Barney Ross. This time around, his titular team will have to do battle with an unhinged arms dealer. Joining Sly for this wild ride is Jason Statham (The Transporter), Jet Li (Unleashed), Antonio Banderas (Desperado), Dolph Lungren (Universal Soldier), UFC Fighter Randy Couture, MMA fighter Ronda Rousey in her film debut, Kelsey Grammer (Transformers: Age of Extinction), Terry Crews (The Expendables 2), Kellan Lutz (The Legend of Hercules), Mel Gibson (Maverick), and Stallone's old Demolition Man co-star Wesley Snipes. Oh yeah, and Indiana Jones Han Solo Harrison Ford is in the mix too. No big deal.
How many of these action heavies can you pick out in the latest TV spot?
Interestingly, Sylvester Stallone is not directing The Expendables 3. Sure, he co-wrote and directed the first one in 2010, helping to assure the successful relaunch of his fading career, but when The Expendables 2 came around, Stallone entrusted its helming to English filmmaker Simon West, who'd directed the Jason Statham actioner The Mechanic as well as the garish and glorious Nic Cage vehicle Con Air, in which this is a thing that happened:
The Expendables 2 tour it up at the box office, bringing in $305 million worldwide - surpassing The Expendables worldwide gross by $31 million. Nonetheless, Lionsgate went with a new director for The Expendables 3, choosing newcomer Patrick Hughes, who is best known for making the Ryan Kwanten-fronted action-thriller Red Hill in 2010.
We'll soon see if the switch in directors works out for the franchise, though a bigger concern to fans might be the series' switch from R-rated action to the inherently tamer PG-13. As TV spots have to play it safe to appease general audiences, it's hard to gage how The Expendables 3's action will be impacted by the reach for the less restricted rating. Sure, PG-13 will allow Lionsgate to reach for a broader audience, but will it turn off fans who clamored over the first two film's ballsy and bloody brand of action?
The Expendables 3 will open in theaters August 15th.
Staff writer at CinemaBlend.
Your Daily Blend of Entertainment News
Thank you for signing up to CinemaBlend. You will receive a verification email shortly.
There was a problem. Please refresh the page and try again.