Explosions, Sword Fights, And Seagal: Watch Robert Rodriguez Directing Machete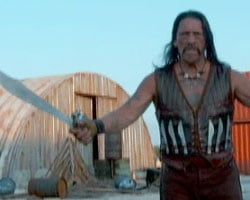 Robert Rodriguez is legendary for his shoot from the hip directing style, and the speed with which he can get a movie in the can and done. If you're a fan, you've probably wondered what it's like on one of his sets, and unless you lucky enough to spend your time hanging out near his place in Austin, odds are you'll never be there. Here's the next best thing.
Embedded below is ten minutes of mostly unedited video straight from the set of his soon to be released Grindhouse spinoff Machete. In that ten minutes you'll see everything from explosions and flamethrowers and sword fights, to dialogue and taco trucks and Cheech Marin. Before you see Machete get a look inside how Rodriguez made it all happen by watching him direct Danny Trejo, Robert De Niro, Steven Seagal (doing his own stunts), Michelle Rodriguez, and Jessica Alba on the Machete set. Watch:
Now get a look at some of the finished product in the form of four completed clips from the film right here. Look for Machete in theaters September 3rd.
Your Daily Blend of Entertainment News