Fantastic Four Off To A Slow Start At The Box Office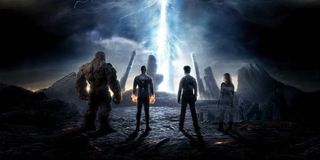 In news that will surprise no one after its underwhelming reviews, Fantastic Four had a slow start at the box office as it took in just $2.7 million on Thursday. There are now huge concerns that the poor critical response and lack of word of mouth could leave the new origin story floundering.
According to Coming Soon, 20th Century Fox's Fantastic Four took in the above number after being screened in most of its 3,995 theaters. It has now been released on the rest of its screens, and the next 24 hours will be critical for the franchise's future. But its $2.7 million opening night haul is already being looked at as an early indication that the film won't match the sum expected by Fox.
While it would be remiss to compare it to the hauls of Avengers: Age Of Ultron and Furious 7, as these efforts both were released on IMAX and 3D, a good comparison for the Fantastic Four might be Marvel's Ant-Man. Both are origin stories for long existing comic book characters. While the Fantastic Four are arguably more well known than their miniature rival.
Unfortunately, despite its history, the Fantastic Four's $2.7 million total is way less than Ant-Man's Thursday night opening of $6.4 million just last month. Ant-Man ultimately went on to gross $57.2 million over its opening weekend. Fantastic Four is expected to fall well short of that total, and amass somewhere in the region of $30 million to $35 million.
All of which pretty much encapsulates what a terrible week it has been for Fantastic Four and Fox. For the last dozen months, Fox has been fighting off allegations that the blockbuster's production has been troubled, while they also had to defend their decision to cast Michael B. Jordan as Johnny Storm.
Then, the first wave of reviews came in and revealed that the film was underwhelming. These were then coupled with a series of poor interviews, the revelation that the cast hadn't seen the film yet, a woeful Esquire cover-story about Miles Teller, and then a second-wave of reviews which were even worse than the first. Then, last night, director Josh Trank even admitted on social media that the film was bad, and blamed Fox for changing his version.
All of this leaves the future of the franchise in a very precarious place. It's pretty much certain that Josh Trank won't be brought back for a sequel, but it's now looking as if a follow-up may not even be considered because of the poor critical and financial response to the film. We'll know more by the end of the weekend. So if you want to see Fantastic Four 2, you're probably going to need to go see the first one about six or seven times.
Your Daily Blend of Entertainment News
Thank you for signing up to CinemaBlend. You will receive a verification email shortly.
There was a problem. Please refresh the page and try again.