Fifty Shades Of Grey Trilogy Rights Go To Universal And Focus Features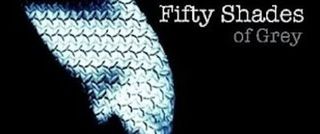 Over the weekend I found out that even my own mother is reading Fifty Shades of Grey, the R-rated novel being dismissively described as "mommy porn," but unequivocally the latest Twilight-esque publishing success, a steamy romance novel told from the point of view of a woman who's fallen for a much more powerful man. Sure, with Twilight he's a vampire, with this one he's just into S&M, but the book-- which started off as Twilight fan fiction, believe it or not-- seems to be drawing in the same kind of devoted readers, to the point that a movie adaptation was inevitable. Over the weekend every major studio was deep in negotiations to pick up the rights for themselves, but now a single winner has finally emerged with the prize.
According to Deadline, Universal and Focus Features have acquired the rights to Fifty Shades of Grey and its two sequels, Fifty Shades Darker and Fifty Shades Freed. It seems clear that the adaptations will be R-rated, given that the books are heavy on S&M sex scenes and all the usual trappings of romance novels. What's less clear, though, is how many women who have furtively read the books on their Kindles-- sales to e-readers make up a huge amount of the book's sales-- will pay to see it in theaters, in public. Yes, my mom and many others are reading it as part of a book club, so clearly there's an audience there. But is it the stuff blockbusters are made of?
Deadline points out that the movie can be made fairly cheaply, with few special effects and no real need for big-name stars-- like Twilight, they can hire nobodies and make them big deals later. But still, building a franchise aimed toward older women, and not the teen fantasies of Twilight and Hunger Games, is going to be an unprecedented challenge. Having made a mint off the woman-centric Mamma Mia!, Universal knows what they're doing, and Focus Features knows from R-rated, adult-aimed hits like Brokeback Mountain. They'll be putting everything they can into making Fifty Shades of Grey the next big thing, so if this is the first time you're hearing about it, enjoy your ignorance now-- it will probably be unavoidable from now on.
Staff Writer at CinemaBlend
Your Daily Blend of Entertainment News
Thank you for signing up to CinemaBlend. You will receive a verification email shortly.
There was a problem. Please refresh the page and try again.