Film Rights For Jon Robin Baitz's Stage Play Other Desert Cities Picked Up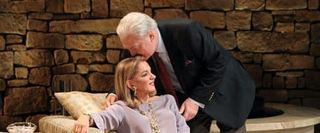 Brothers & Sisters creator Jon Robin Baitz hasn't had a feature film produced in a few years (2006's People I Know, starring Al Pacino), but he may soon be headed back to the big screen courtesy of Broadway. Deadline reports that producers Walter Parkes and Laurie MacDonald have scooped up the movie rights to Baitz's play Other Desert Cities. Baitz himself will write the script for the adaptation, as well as co-producing with Parkes and MacDonald.
Other Desert Cities tells the story of an old Hollywood couple, played on the stage by Stacy Keach and Stockard Channing, who used to be friends with Ronald and Nancy Reagan. They retire to Palm Springs, but find any plans as peaceful golden years interrupted by their two children: one a reality TV producer and the other a novelist who has written a tell-all memoir that has unleashed every closet-skeleton the family owns. It is, in other words, the stuff that indie dramas and Oscar nominations are made of.
Other Desert Cities started its run at Lincoln Center's Mitzi E. Newhouse Theatre before moving to Broadway this month. There's no word whether Keach and Channing (pictured above) might be considered to reprise their roles from the stage or not, but it's early yet. This won't be producers Parkes and MacDonald's first stage-to-screen project; they previously produced Tim Burton's big-screen version of Stephen Sondheim's Sweeney Todd: The Demon Barber of Fleet Street, starring Johnny Depp, Helena Bonham Carter, and Alan Rickman.
Your Daily Blend of Entertainment News
Thank you for signing up to CinemaBlend. You will receive a verification email shortly.
There was a problem. Please refresh the page and try again.